A substation installed 30km off the German island of Nordeney is the next step to connecting 253MW of offshore wind-generated electricity to the German grid.
The substation is working within the Gode Wind 3 offshore wind farm, which is owned and operated by Ørsted.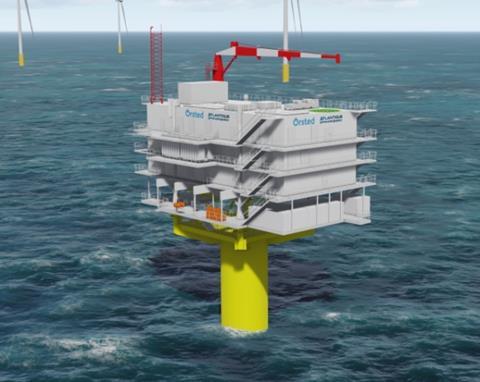 The substation, which was built in Saint-Nazaire and transported by barge and tug to the Netherlands by construction firm Chantiers de l'Atlantique, is 1,900 tonnes in weight.
Marine contractors Jan De Nul installed the monopile foundation on which the substation is now mounted.
Transmission system operator TenneT has to set up a connection to a converter station, which has already been installed in the sea.
A 45km export cable will connect the wind farm to the network on land, where it is estimated that around 250,000 will be powered by it.
Gode Wind 3 is close to Ørsted's other two wind farms in the area, 1 and 2. Once completed, all three wind farms should have a generating capacity of 1.1GW.
* Separately, Ørsted is working off the UK's Isle of Man on the island's first offshore wind project.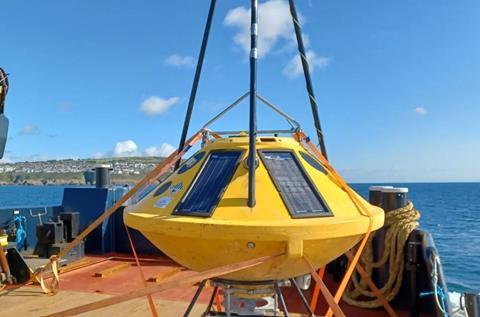 Fugro has deployed a wave measurement buoy and subsea temperature monitoring device off the east coast in the next phase of survey and exploration work.
"The deployment of this device off the east coast is just part of the wide range of surveys that we have been carrying out over the years as we design this project," said Ørsted development director John Galloway. "We have been able to re-purpose and reuse a wave measurement buoy from one of our existing Irish Sea projects."
Fugro has deployed 100 of these data buoys around Europe, including 10 for Ørsted. Ørsted operates 12 offshore wind farms in the UK, which generate 5.5GW of electricity.