Cable giant Prysmian has been chosen to produce and install the cables for two offshore grid connection systems and an underground cable project in Germany in contracts worth €4.5 billion.
Transmission System Operator (TSO) Amprion is responsible for getting the grid connection systems installed from the North Sea down to Wehrendorf and Westerkappeln, which means 360km for BalWin1 and 380km for BalWin2. Almost half of each length will be sea cables with 2,000MW transmission capacity.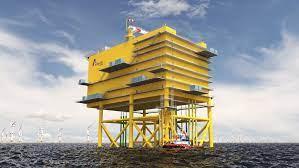 "In order for Germany to achieve its climate targets, offshore wind farms are to deliver as much power as 40 large coal-fired power plants by 2030," says Amprion. "This requires not only new offshore wind farms, but also new cables connecting them to the transmission grid. This is the remit of the BalWin1 and BalWin2 offshore grid connection systems that are planned."
These three projects will contribute to the 70GW of electricity from offshore wind farms that Germany plans to install by 2045.
"Each cable system will consist of two single-core ±525 kV HVDC copper cables with XLPE insulation for the submarine sections and P-Laser insulation for the land underground sections, plus a dedicated metallic return cable and a fibre optic cable," says Prysmian. "BalWin1 will utilize approximately 1,070 km of cables along a 358km route, whereas BalWin2 will use approximately 1,100km of cables over a route of 376 km."
In May, technology company Allseas announced it had been awarded the contract to build the converter platforms for BalWin1 and 2. It will supply and install two complete jackets and topsides.
Allseas has secured further transport and installation work for the offshore wind industry – two 2GW converter platforms for the BalWin1 and BalWin2 offshore grid connection systems in the German North Sea.
Germany recently approved another cluster of wind farms for the North Sea.