The Port of Lowestoft, in the southern North Sea, is one of several Associated British Ports undergoing transformation.
Marine civil engineers McLaughlin & Harvey have been awarded the contract to design what it describes as an ambitious energy facility at Lowestoft Port, in which operations and maintenance acitivies and construction support for the offshore energy industry will be accommodated, 'helping to transform the town of Lowestoft into East of England's premier offshore energy hub'.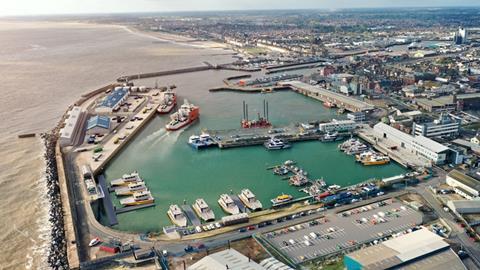 Associated British Ports owns the port and has hired civil engineering firm Mace to support the development of its outer harbour, where three more service operation vessel berths and six crew transfer berths will be built.
Known as 'LEEF' (Lowestoft Eastern Energy Facility), the project is expected to be completed within 12 months and is part of a 'Port Gateway' development.
Mace says it has secured a raft of deals with ABP for schemes at the ports of Immingham, Southampton, Newport and Plymouth.
At Immingham it will provide consultancy for a new Ro-Ro facility and two new harbour berths; at Southampton it will supervise the expansion of an existing container-to-rail facility; and in Plymouth, a new passenger boarding bridge system is being installed along with other refurbishments.
"As the UK's leading port owner and operator with 21 ports around Britain, the Group Professional Services Framework was procured to strengthen ABP's ability to deliver our core business as well as our strategic plan," said Sahir Rahim, Group head of Contracts and Cost Management with ABP. "This drives our mission to support our customers in 'Keeping Britain Trading'.
"Building long-term collaborative relationships with our consultants through the Group Professional Services Framework is vital to support ABP's core teams across a portfolio of varied project development and delivery opportunities. This framework is critical to enable us to achieve our strategic growth objectives whilst improving ABP's project management and technical capability, focusing on safety in everything we do, being considerate to the environment and sensitive in our development within our regions."