The first major new reservoir in the UK for about 40 years will be built by Van Oord subsidiary Mackley and its new JV partner Jones Bros Civil Engineering after a £150 million (€170 million) contract was awarded by the utility Portsmouth Water.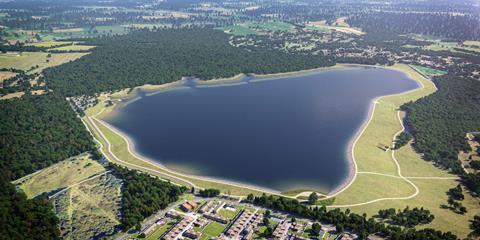 The new joint venture has been named 'Future Water MJJV', and the contract was awarded following a detailed tender process which includes the construction of a £41 million (€46.4 million) tunnelled pipeline to be installed by Ireland-based international building firm Ward & Burke Construction.
The 160-hectare Havant Thicket Reservoir should hold about 8.7 billion litres of water, with a daily supply capacity of 21 million litres, says Portsmouth Water, which is working on the project with neighbouring utility Southeast Water.
The reservoir will be supplied with surplus water from nearby springs when they flow at their highest in the winter months, it says.
"Future Water is delighted to have been selected by Portsmouth Water to deliver this critical piece of water infrastructure for the South East of England," said Mackley MD Ben Hamer, who is now director of the joint venture. "As a regional company, legacy projects, such as this, are central to the values of our staff and stakeholders."
"As well as providing vital water resources, we are tapping into the site's potential to offer a host of wider benefits to the environment and our communities – recreation, education, health, well-being, local employment and training," said Portsmouth Water CEO Bob Taylor. "Overall, building the reservoir would bring more benefits for nature, wildlife and local people than the existing grassland. We plan to create a new wetland to support threatened species of local and migrating birds, as well as new woodlands, hedgerows and wild flower banks, and to improve existing woodlands."
The reservoir is scheduled to be operational by 2029.