Inverclyde's new GB£20 million Greenock Ocean Terminal was created to increase business and it's more than paid for itself already.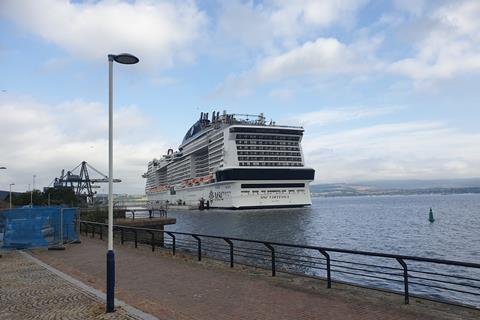 The plan to increase visitor numbers to 150,000 passengers a year has already been surpassed and the project has provided a GB£26m boost to the Scottish economy with over 70 jobs being created in the process.
"The centre itself looks incredible and has been a huge success with the tens of thousands of passengers who have passed through it so far this year," said Jim McSporran, port director at Peel Ports Clydeport.
"We've invested significantly with our partners on upgrading our facilities, which we believe take our offerings at the port to the next level. We are now looking to build on a record year for cruise liners and continuing to attract and grow those tourist numbers to the terminal in the years ahead."
Construction project
The project, led by Inverclyde Council, is part of the GB£1 billion Glasgow City Region City Deal funded by the Scottish and UK governments (£10.4m), with contributions from Peel Ports (£8m), operators of the existing Greenock Ocean Terminal and the George Wyllie Foundation via Dunard Fund (£1.7m).
It features an arrivals/departure hall operated by Peel Ports Clydeport, as well as a museum and art gallery, the Wyllieum, paying tribute to the late, world-famous artist George Wyllie, who worked as a Customs Officer in Greenock.
A new 200-metre floating pontoon was also completed by Peel Ports in partnership with the council as part of the overall project, providing a dedicated cruise ship berth linking to the state-of-the-art new visitor centre.
The £20m investment includes work on the terminal building itself and marine works for the floating pontoon.
Thousands of passengers and crew from around the world have already taken advantage of the new facilities at Inverclyde so far this year.
The terminal will welcome 89 cruise liners into the Inverclyde town's new dedicated pontoon in 2023 – a rise of over 25% on last year.
As well as the 150,000-plus passengers, 38,000 crew members are also expected to pass through the port.
The visitor centre was first used by passengers in June when one of the world's largest cruise liners – the 330m-long MSC Virtuosa – berthed at the terminal.