Concrete has been poured for construction of a floating facility in British Columbia for HaiSea Marine that will be the base for "the greenest tugboat fleet in the world".
Provision of new towage services and vessels worldwide has seen significant developments on Canada's west coast in recent times, including Kotug Canada's provision of escort tugs and an oil spill response vessel for the Trans Mountain Expansion Project, reported elsewhere in MJ.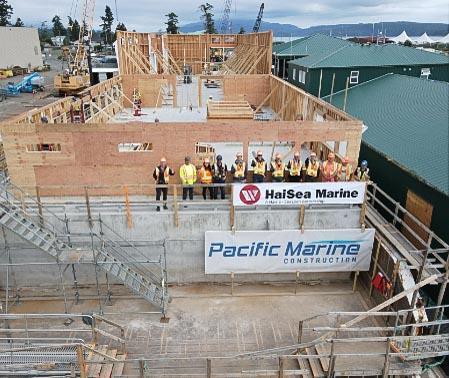 An equally important development attracting worldwide industry media attention is HaiSea Marine's new fleet of tugs that will operate at LNG Canada's new export facility in British Columbia. The new additions, built by Turkey's Sanmar Shipyards, comprise two 100tbp Robert Allan Ltd (RAL) RAstar 4000-DF (LNG and diesel) escort tugs and three 70tbp RAL ElectRA 2800 electric harbour tugs.
Such a fleet of significant vessels obviously requires adequate shoreside berthing and maintenance facilities and Campbell River, BC-based Pacific Marine Construction has been contracted by HaiSea Marine, majority owned by Haisla First Nation in partnership with Seaspan ULC, to build a floating tugboat maintenance facility that will be the base of operations for HaiSea's fleet in Kitimat, BC.
The facility will comprise two main areas including a workshop combined with common spaces and a gym facility along with accommodation for use by eight shore-based personnel during normal working hours.
"Everything at HaiSea is being built with inclusivity in mind," said Seaspan Marine senior vice president Jordan Pechie. "From the wellness facility to the single enclosed bathrooms and changing rooms it is centred around a common goal of creating a safe, healthy and inclusive environment for everyone working at HaiSea."
Each of HaiSea's five tugs has been named by the nations with connections and meaning to their people and territories. As the name of the floating facility is seen as just as important to the HaiSea team and its partners, members of the Haisla, Gitga'at and Gitxala communities have been invited to take part in a naming contest for the facility.
While the initial contract will see HaiSea providing escort tug services for a 12-year period, the facility is being built with a long-term vision to serve the tugs and Kitimat community for generations to come.