Seawork exhibitor Inland and Coastal Marina Systems (ICMS) has installed a heavy duty pontoon system as part of a new O&M base to support the Neart na Gaoithe (NnG) offshore windfarm 5.5km off the coast.
EDF Renewables bought the 105km2 site in 2018, and sold half to Irish energy firm ESB. Ten jacket foundations have so far been installed for the Siemens Gamesa turbines, which are projected to have 450MW of generating capacity, enough to power 375,000 homes, the developers say.
The O&M base at Eyemouth Harbour will contain a 1.040m2 main three-storey building and two-storey 538m2 storage warehouse.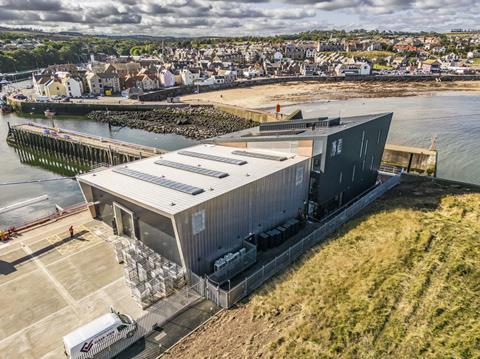 ICMS' bespoke system will contain a 58m x 4m pontoon and a 27m x 4m pontoon, each with a 1m freeboard to match that on the vessels, which will create a berthing facility for crew transfer vessels.
Both pontoons are connected to the shore by access bridges topped with anti-slip GRP decking and lit by high-level lighting.
"We installed NNG's new pontoons in the busy harbour basin, on the marine side, during the build phase of the O&M building, which meant working closely with multiple contractors to ensure the project was completed safely and on time," says Calum MacDougall, engineering sales manager at ICMS. "We've been delighted to be involved with a project that will bring long lasting benefits to the local community, businesses and the economy."
Two offshore substations will gather electricity generated by the turbines that will be transmitted to it through 66kV inter-array cables. The substations will be connected to each other through an interconnector cable.
The offshore cables will be supplied and installed by Prysmian and Deme Offshore, with Fred Olsen Windcarrier hired for the transport and installation of the wind turbines.