A 70m wave-attenuating breakwater has been installed at a marina in Gosport on the south coast of England by Inland Coastal Marina Systems (ICMS).
A two-phase project at the marina to expand berthing involved creating a bespoke floating concrete breakwater to reduce the wave climate at a section of Haslar Marina that is particularly exposed to the elements.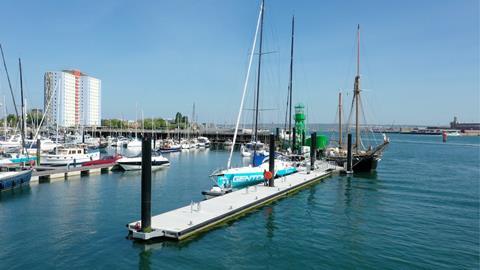 The new breakwater, which comprises two 60-tonne 20m x 4m and two 53 tonne 15m x 4m concrete breakwater units, means more berths can be created at the marina.
Manufactured in house, ICMS' floating concrete breakwaters are an option where a fixed breakwater isn't feasible and are designed to attenuate waves to a level where sheltered berthing can then be provided.
Built from reinforced concrete with internal floating blocks, the breakwaters incorporate high-yield stainless steel wire rope and IRHD 70 rubber buffers, combining high strength and high flexibility.
Given the severe environments in which they function, ICMS pays particular attention to the lifespan of the units. Built in accordance with exposure classifications, coupled with a detailed analysis of the site, the galvanised reinforcing steel and concrete cover ensure the longevity of the breakwater units.
"We're delighted with the work that Inland and Coastal has done, completing the final piece of our overall marina extension work," said Ben Lippiett, Marina general manager.
"One of the unique selling points of our marina is its position close to Portsmouth Harbour entrance, but this has meant there has always been a bit of motion at this exposed end, which has previously made it difficult to fill the berths.
"What our new floating concrete breakwater has done is to create a wave screen effect and given us greater protection from the action of the wind and waves.
"Feedback from customers so far is that they've seen a dramatic change in the wave climate. It is quite literally rough on one side, and calm on the other.
"What the new breakwater has also given us is very usable, high load capacity space to accommodate much larger boats, superyachts and sail training vessels."