The Port of Leixões in Matosinhos will have a new logistics platform, cruise terminal and container terminals when works are complete.
The $489 million works - $203 million of which will go into the new logistics platform, $226 million into one container terminal and the rest into another container terminal and cruise terminal - are being carried out to improve the physical limitations of the Port of Leixões, where 'it is crucial to respond to the growing trend of the size of ships, to ensure adequate safety conditions and to promote port development in the context of the new market orientations', the description says.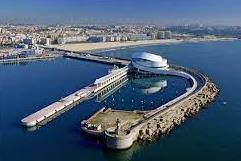 The works will be carried out in phases, extending the breakwater and improving sea access to 14 metres. A new fishing port will be built, and one of the container terminals, to the south, will increase containerised cargo capacity from 650,000 TEU to 850,000 TEU,
Works will also include reinforcing and resurfacing the embankment area.
The port is the second largest national port in terms of freight traffic, with an annual movement of 685,000 TEUs, the port says, plus an annual movement of RoRo cargo exceeding 1.3 million tonnes.
The port also has an important fishing harbour, which is one of the top ports in the country in terms of the amount of fish caught - especially sardines.
The project is being carried out by APDL - Administração dos Portos do Douro, Leixões and Viana do Castelo.