The Ports of Normandy has pledged €900,000 to implement a roadmap that words towards meeting EU rules to set up electric connections for certain ships at ports.
An EU regulation on alternative fuels infrastructure (AFIR) sets mandatory targets to make recharging and hydrogen refuelling more accessible in transport, both on roads and shore side at sea and inland ports.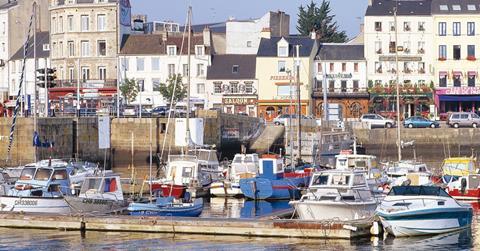 "Maritime ports that see at least 50 port calls by large passenger vessels, or 100 port calls by container vessels, must provide shore-side electricity for such vessels by 2030," the rules say. "This will not only help reduce the carbon footprint of maritime transport, but also significantly reduce local air pollution in port areas."
The Ports of Normandy Authority, which operates Caen-Ouistreham, Cherbourg and Dieppe, has signed an agreement with energy utility EDF to produce the roadmap, which will include the technical and regulatory studies required for putting the ferry and cruise vessel charging infrastructure in place.
"Apart from the studies, which are essential, we have just set a clear timetable: the work should begin in 2024, port after port, quay after quay, so that in 2027, ie three years before the regulatory obligation, Ports of Normandy can offer this service to ferry and cruise companies in all of its three ports," said Hervé Morin, president of the Normandy Region and Ports of Normandy. "It is by combining ambition and pragmatism that we can advance the fight against climate change. Here is a very concrete example."
AFIR is part of the 'European Green Deal', which sets out plans to make the European Union 'climate neutral' by 2050."
"To reach this target, the EU must reduce its emissions by at least 55% by 2030, compared to 1990 levels," it says.