A five-year Dutch research project is investigating the technologies and engineering required to build floating structures big enough to hold entire cities as a way of responding to possible future sea level rises.
'Floating Future' has been awarded €5.3 million from the De Nederlandse Organisatie voor Wetenschappelijk Onderzoek (NWO, Dutch Research Council) to research how large floating structures and islands, on which people could live and work, could be built in inland and coastal areas.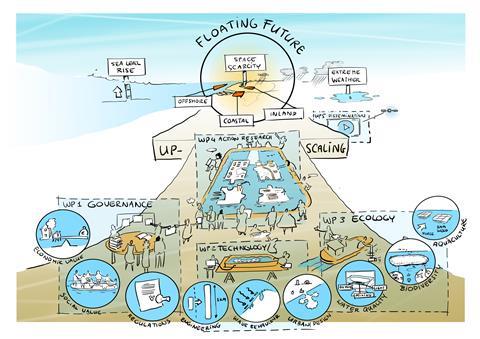 The programme will investigate how such floating structures could offer a 'climate-proof solution' for space limitations in the Dutch Delta, or Rhine Delta, where the Rhine, Scheldt and Meus rivers form a delta into the North Sea.
Olaf Waals, manager Offshore at the Maritime Research Institute Netherlands (MARIN), is official secretary of Floating Future and spoke to Maritime Journal about the programme.
"This is research that links academia with industry and all kinds of stakeholders," he said. "Not only are sea levels rising, we also have soil subsidence because we are on a swampy, peaty land.
"This project aims to look into changing this – why not develop floating alternatives in synergy with the old ways and create more room for the rivers to flow, widen them to allow larger river flows."
A lot of people in the Netherlands already live a couple of metres below sea level, Waals says, and changing their mindset to living on the water might be a challenge that is also being investigated.
"We do already have floating houses, but not entire apartment blocks," he said. "But the municipalities of Amsterdam and Rotterdam are also in the consortium and looking at this to see if they can redevelop old port areas."
Of course there will have to be cash incentives for contractors, and Haals says a separate 'Outcome Pathway' programme will look at this.
With so many predictions being made that sea levels are going to rise, Floating Future is seeking to work with the phenomenon and treat it as an opportunity: rather than 'fighting against water', the aim would be 'living with water', the programme believes.