PD Ports has dug deep to buy a dredger for the River Tees to replace its 50-year-old workhorse.
Already named Emerald Duchess, the new dredger has been 'future proofed', PD Ports says, with the capability of swapping between battery power to hydrotreated vegetable oil (HVO), which some call 'renewable diesel'.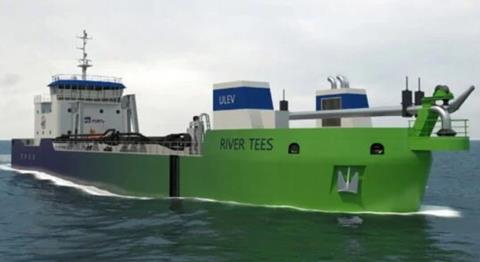 "It is also ready for future innovation, with hatches above the engine room to allow power units to be swapped out for modern fuel cells as the technology matures, using methanol or ethanol fuel," PD Ports says.
"Extensive modelling, using computational fluid dynamics, has taken place to create a hull that is as refined as possible while moving through the water to minimise fuel consumption."
Emerald Duchess will be 71 metres long and is currently under construction at a shipyard in Poland. She will be able to carry 2,500 tonnes and hold up 2,000m3 of dredged material.
"The Emerald Duchess represents a major investment in our conservancy operations as SHA and shows our high level of commitment to the socio-economic development of the River Tees and the wider region," said Frans Calje, chief executive officer of PD Ports: .
"The vessel is a step ahead in terms of crew safety and sustainability, using low-emission fuel and an innovative layout to make it more fuel efficient.
"Every investment we make is targeted to keep our environmental impact to a minimum, while also supporting the growth and success of the region and the commercial operators who rely on the river."
"The battery and DC-bus system-based power management system is an expansion of Neptune Marine's innovative approach to future proof sustainable shipbuilding and operation," said Benjamin Grefkens, director Neptune Marine.
The new vessel is due to be delivered after trials in the Netherlands in 2024. She will be crucial for legally agreed levels to allow commercial vessels along the Tees for vessels at depths of up to 17 metres.
The Cleveland County will be stood down after 50 years on the Tees.