Major marine civil engineering works will be carried out by the consortium made up of Van Oord, Hakkers and De Klerk to allow even bigger vessels to use Rotterdam
Five hundred metres of new quay in the Yangtze Canal in the Port of Rotterdam will provide space for 12 tugs to berth when completed by the consortium of Van Oord, Hakkers and De Klerk.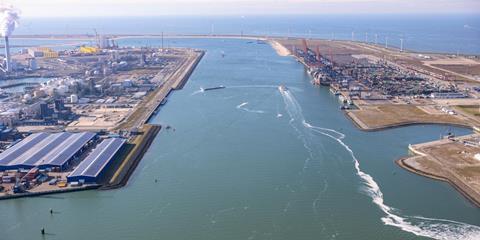 The Yangtze Canal is used by the world's largest container ships as they sail to and from terminals in the Maasvlakte II section, and this work will accommodate the latest generation of such vessels.
The quay wall, which will be a composite wall, will be at the south entrance to the canal near to the largest container terminals.
Existing bed and bank protection will be removed and replaced with new materials, with about 800,000 square metres of sand and clay dredged to widen the canal and make space for the new quay.
The Yangtze Canal is the access channel to various terminals at the port, including the Prinses Amaliahaven, Prinses Arianehaven and Prinses Alexiahaven.
The consortium of Van Oord, Hakkers and De Klerk has a lot of joint projects under its belt, and won this contract 'for measures designed to prevent nuisance and damage'.
"The project is located directly adjacent to existing port users," said a spokesman from Van Oord. "Minimisation of hindrance is very important. Special measures will be in place to prevent nuisance and damage. Also, a substantial effort will be made to improve sustainability on the construction site itself. This includes deploying a trailing suction hopper dredger equipped to operate on the more sustainable fuel LNG, and using equipment powered by electricity to reduce emissions significantly during construction."
The work is due to be completed in spring 2025.