Rotterdam Shortsea Terminals (RST) and Samskip have launched a new shore power connection to tackle CO2 emissions produced by vessels at the dock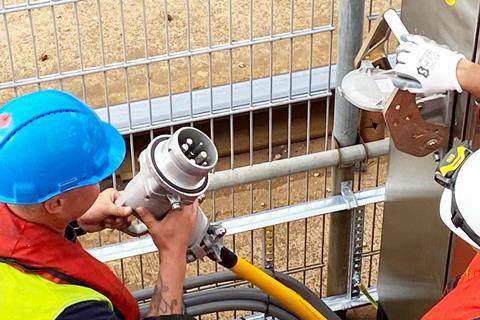 The shore power solution is the first of its kind for a container terminal in the Netherlands.
"RST is committed to be a frontrunner in energy transition and is taking a leading role in the port of Rotterdam to work on practical solutions to serve the planet and RST's customers," said CEO Arno Storm.
"I am truly proud to be able to say that we are the first container terminal in the Netherlands which has a shore power connection. For me, keying in on the path towards CO2 neutrality means partnering with customers and suppliers and I am thrilled that together with Samskip, HES and Jolectra, we have been able to take a first step."
Quayside first
The new shore power endeavour was largely possible through the expertise of Harbour Electronical Services (HES) which both prepared and outfitted Samskip's shortsea vessel "Innovator" to receive shore power.
The power supply unit at the quay of RST has been installed by Jolectra.
The European Commission has made clear that onshore power supply systems are a critical step towards the decarbonisation of the shipping sector.
For the entire shipping sector, shore-side electricity is expected to reduce CO2 emissions by five megatonnes of CO2 per year (3.7% of global shipping emissions).
With this joint iniative, Samskip is also moving forward in its preparation for the FuelEU Maritime regulation, which will require shore-power connectivity from 2030 onwards.
Samskip vessels are already using a variety of means to reduce emissions including bio-fuel, CO2 capturing systems, WASP (Wind Assisted Ships Propulsion) and shore power.
The company has set itself ambitious decarbonisation targets for the upcoming years with a clear aim to achieve net-zero emissions by 2040.