A jetty on the River Thames has been upgraded to accommodate coaster vessels for the first time in what is also a first for civil engineering firm Land & Water.
Coaster vessels, the backbone of the short-sea transport industry, can now berth and load at Coldharbour Jetty, which will 'unlock future supply chains into London whilst harnessing the River Thames as a sustainable transport system'.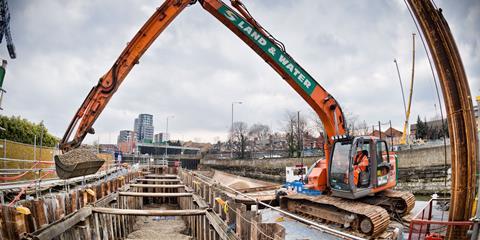 As well as being able to handle shipping and barging operations, the jetty also handles waste spoils from construction works in central London that will be forwarded to Rainham Marshes, where Land & Water is creating a wetland on the outskirts of London.
"The scheme, which Land & Water will be operating until 2040, will see up to eight million tonnes of wet and dry spoil material being used to create an oasis for birds and wildlife whilst encouraging greater areas of greenery along the Thames corridor," says Land & water, which added the berth was dredged in 2018 to facilitate its use for spoil projects.
"The berth can now accommodate 90m coaster vessels," said Tom Melhuish, director at Land & Water. "I think the main thing that is new about the project is that we have re-purposed a barging facility to accommodate larger vessels and it is not often that new terminals are opened on the Thames."
The modifications to the berth were designed by Hewson Consulting and works were undertaken by Land & Water Services. The jetty will be operated by Land & Water Remediation, the environmental services division of Land & Water Group.