Scotland's Port of Aberdeen is about to complete major works on an expansion project that will give one of the UK's busiest ports much greater capacity for larger vessels in the cruise and offshore wind industry.
The £420 million (€490 million) project expanding Aberdeen's South Harbour is being touted as the largest marine infrastructure in the UK, and with the North Harbour as well, will have an impact on the entire country, Port of Aberdeen says.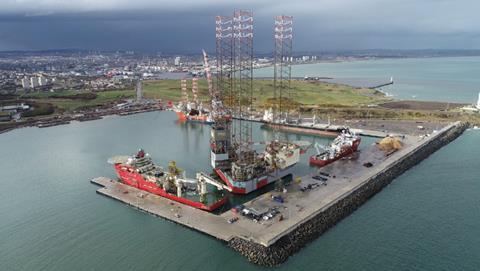 More than two million cubic metres of material has been dredged using Goliath, the world's largest backhoe dredger, which is owned by Van Oord.
"Port of Aberdeen supports activity throughout the offshore wind life cycle, from planning to decommissioning," said Jordan Harkins, with Port of Aberdeen. "We are the operations and maintenance base for two local wind farms – Kincardine and Aberdeen Offshore Wind Farm. We are ideally positioned to support marine logistics for the next generation of offshore wind from ScotWind, INTOG etc."
The port is looking at shore power and alternative fuels as 'an important role in assisting the International Maritime Organisation and the global maritime industry in their ambitious to reduce emissions by providing cleaner, alternative marine fuels'.
"We have two projects under way to provide shore power for vessels berthed alongside – one for platform supply vessels and one for ferries," says Harkins. "The phased roll-out will see first power at three berths next year, and it will then be scaled up across the port. This will allow vessels to turn off their generators when berthed and significantly reduce emissions.
"We are exploring a number of exciting opportunities in hydrogen, which includes advanced discussions with hydrogen exporters and building a blueprint to develop the required infrastructure. We were recently awarded £150,000 (€175,000) from the Scottish government to explore the feasibility of subsea hydrogen storage at South Harbour.
"Turning discussions/feasibility studies in action and infrastructure investment will require close collaboration and partnership between the public and private sector to ensure we are meeting the requirements of industry."
Aberdeen is a popular cruise destination, with a record 39 due this year and 50 already booked for 2024. With the ability now to take ships of more than 200 metres in length, foot traffic to the northern Scottish city is bound to increase substantially.