A team of specialist divers and marine engineers were brought in to complete vital maintenance work to offshore pipes at a water treatment plant in the north east of England.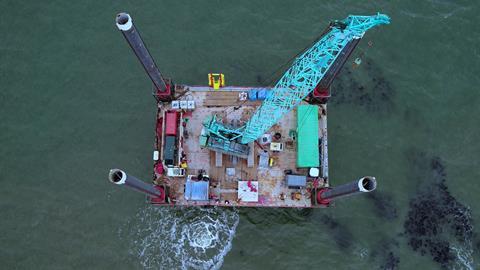 The Dawdon Mine Water Treatment Scheme (MWTS) protects an underground source of drinking water that is supplied to around 30,000 people in the region near mine water that has built up since water pumping stopped following the closure of colleries in the area.
Every year, 2,000 million litres of mine water have to be treated and pumped into the North Sea through two short sea outfall pipes which needed several weeks of maintenance from a barge nearby.
The overall project was managed by Southbay Civil Engineering for The Coal Authority, which contracted engineering firm Red7Marine's 250t deck capacity Haven Seariser 1 jack-up barge to support the operations and provide a dive platform for the maintenance activities to be performed from.
Pre-planning was required due to the challenging tidal environment and associated logistics in terms of accessing the outfall structures, in particular crew transfer and delivery of materials.
"The success in delivering this project was significantly credited to the close working collaboration of the teams and we look forward to continuing work together in the future," said Red7Marine managing director Kristen Branford.