The foundations, in the River Eden, support three railway viaducts: a 1940s-built concrete structure, which in turn supports a railway that carries goods down the west coast and two viaducts, one of them Victorian.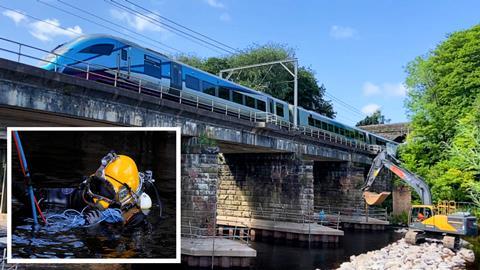 Since the summer of 2021, the three structures have cost £5.1 million (€5.8 million) to be protected, which has been paid for by the railway firm Network Rail.
Using hydrographic survey technology, the river bed was scoured to show the true extent of the damage to the foundations, which is believed to have worsened during recent heavy rainfall.
Until the works were completed, trains were forced to run at reduced speeds of just 20mph.
"Due to working in the river, Network Rail worked very closely with the Environment Agency and Natural England to ensure construction methods had the least impact on wildlife as possible," says Network Rail. "This included the development of a special mix of environmentally safe 'non leach' concrete, which was pumped underwater into the gaps of the West Coast main line structures by professional divers.
"Huge boulders (5,000 tonnes) known as 'rock armour' were also placed in the water to divert river flow around the viaduct supports – known as piers – at all three structures."
In the later stages of the work, 4,000 tonnes of special setting concrete was poured, taking up a volume of 1,850m3.
"Now the winter rains are once again swelling the River Eden our vital work to protect the three railway viaducts is being put to its first big test and it's great to see our improvements protecting rail passengers and freight trains," said Rob Stephens, Network Rail principal route engineer.
"These projects have been challenging and have blended technological and engineering innovations alongside traditional techniques. Using new technology will be crucial as we make the railway more resilient from severe weather and our changing climate in future."