A joint venture between two of the world's best-known marine contractors has been set up to create the world's first so-called energy island.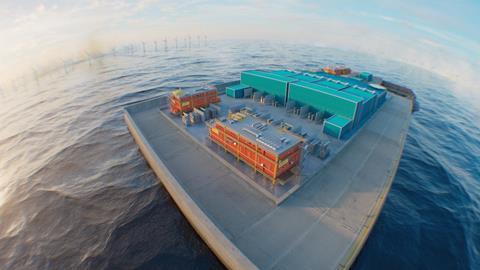 It is said to be the first 'building block' of an integrated European offshore electricity grid that will connect various hubs and countries together, with Belgium saying it wants to build additional joint interconnections with Great Britain and Denmark.
TM Edison, formed by Jan De Nul and DEME, won the tender for the construction after Belgian utility company Elia received multiple bids from Belgian and foreign companies once the procedure opened in January 2022.
"Elements such as technical quality and commercial and contractual conditions played a significant role," said Elia on the award. "Attention to safety also played a decisive role. In addition to a specialised fleet, DEME and Jan de Nul hold experience and expertise in dredging, land extension, coastal protection and civil engineering."
Construction of the foundations of 'Princess Elisabeth Island', 45km off the coast of Belgium in the North Sea, will begin early next year and are anticipated to last for 2.5 years.
Engineering
The contours of the island will be formed by using concrete caissons filled with sand. The base of the island will then be raised and prepared for the electrical infrastructure, with an area the equivalent size of 12 football pitches allowed for that.
The electrical infrastructure will be connected to new offshore wind farms and with Elia's onshore grid, and it will be vital that ongoing grid reinforcement projects are completed at the same time, says the utility, which aims to connect all wind farms to the mainland by 2030.
A small harbour and helicopter platform will also be built on the island for maintenance crews.
"The combined experience of Jan De Nul and DEME as offshore specialists in dredging, rock armour and offshore energy is an absolute added value," said Jan de Nul director Julie De Nul.
"The construction of the world's first artificial energy island reaffirms our country's expertise in realising complex projects at sea," said DEME Group CEO Luc Vandenbulcke.