OceanWise, a UK-based supplier of Intelligent Marine and Coastal Mapping Data has announced the release of free, interactive, Marine Mapping product demonstrators available at www.oceanwise.eu/data. Built using OpenLayers, the demos allow the user to pan around a defined area and get a feel for the company's different data products.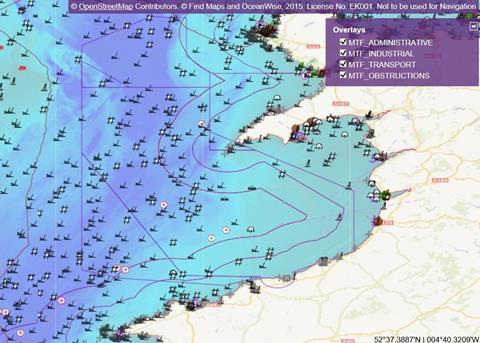 OceanWise currently has individual demos for Marine Themes Vector, Marine Themes Digital Elevation Model (DEM) and Raster Charts. The application of marine data in a web service is an increasingly important requirement for many users, these demos show how map content can be delivered through a web interface whether as Web Mapping (WMS) and / or Tile Mapping (TMS) services.
These online services can be used through a web mapping interface or direct to a desktop GIS, thereby removing the headache of holding data and the need for updates. The objective of the demos is to better help businesses make more informed decisions on the purchase of data and also improve the business case for adoption of web services by making the argument easier and more compelling.
The demos can be accessed using the following links:
Marine Themes Vector: http://www.oceanwise.eu/data/marine-themes/
Marine Themes DEM: http://www.oceanwise.eu/data/marine-themes-dem/
Marine Themes Raster Charts: http://www.oceanwise.eu/data/raster-charts/
OceanWise Ltd is an independent company specialising in all aspects of marine environmental data acquisition, data and knowledge management and GIS. In addition to providing Intelligent Marine and Coastal Mapping Data, OceanWise also offers: Environmental Data Sharing and Publishing (Ocean Database and Port-Log.net); Data Policy, Strategy and Management Systems Advice; Enterprise GIS Productivity Tools and Software (Maritime Toolbar and Workflow Extensions); and Capacity Building, Training and Mentoring
By Jake Frith