The benefits of maritime apprenticeships have been highlighted at a Seawork 2018 conference session aiming to show how organisations can add value to their businesses.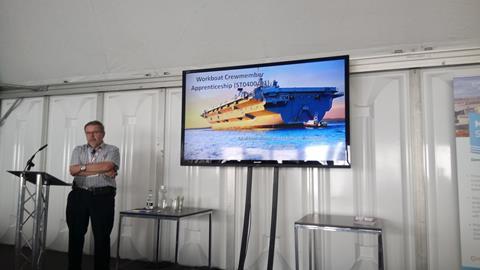 Mark Ranson from the National Workboat Association talked about England's 18-24 month Level 3 Workboat Trailblazer Apprenticeship, discussing how the apprenticeship would see apprentices gain STCW basic courses, STCW one-day designated security duties, a navigational watch rating certificate, efficient deck hand certificate, crane operator's certificate, slinger and signaller's certificate and AEC 1& 2.
Apprenticeships completing courses must undertaken an "end point assessment" said Mr Ranson. This is carried out by an independent assessor and is mainly based on a one-day practical assessment onboard a workboat. End Point assessors are expected to be towage assessors, he added.
"It is now up to training providers to produce timetables and costings" Mr Ranson explained. The aim is to "recruit first intake for September.
Apprenticeship providers will receive at least 20% off the job training through the Government's Apprenticeship Levy.
The Scottish Modern Workboat Apprenticeship has been available since 2017 with Steam Marine Training, Clyde the preferred training provider, however, it still doesn't have approval from SQA to run the apprenticeship, said Mr Ranson.
He said other providers are interested and NWA will attempt to get the apprenticeship running later this year, but warned if it couldn't then the qualification may be withdrawn.
By Rebecca Jeffrey