Boluda Towage's tug Bremen Fighter has completed all its administrative procedures including repainting in German Coast Guard colours, and is now in service in the Baltic Sea.
The appetite for European coastal states to operate government-funded Emergency Towing Vessels remains strong with capable and readily available tugs able to intervene in incidents that risk life and environmental damage when commercially available towage and salvage assistance is not immediately to hand.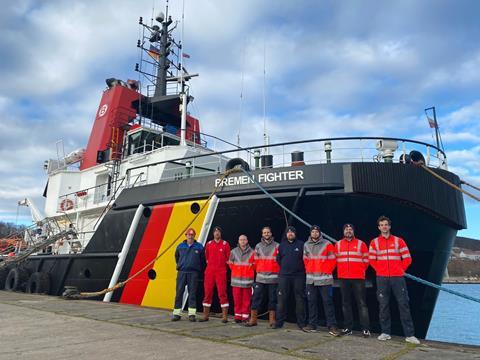 In March 2021 Boluda Deutschland GmbH announced it had been awarded a contract to provide towage and rescue services in the Baltic by the German Federal Waterway and Shipping Administration, the contract formally commencing on 21 February 2022.
Since then, the tug designated for the contract and the most powerful in Boluda's fleet, the 48.8m long, 104tbp Bremen Fighter, has been in service based in the port of Sassnitz on the island of Rügen, where it performed maritime salvage operations under command of the German Federal Waterway Authorities on an interim contract basis. With all the administrative procedures completed and with its new colour scheme, Bremen Fighter is now in full operation sailing under the German flag.
Bremen Fighter is one of several similar anchor-handling tugs of varying power configurations built by Mützelfeldtwerft GmbH, Cuxhaven between 2004 and 2009 and seen regularly in European waters.
Built to a popular design, Bremen Fighter started out life as the Primus with Harms Bergung Transport with Unterweser Reederei GmbH later becoming involved as ship manager and operator until it became Bremen Fighter in 2011 under Boluda ownership.
Two near sisters, Pegasus and Centaurus, still retain their original name with group ownership still listed as Harms Bergung Transport. Other notable tugs in the series include Magnus, Taurus, Janus and Ursus all around 200tbp and now owned by Alp Maritime Services as Alp Ace, Alp Ippon, Alp Winger and Alp Forward respectively, and at around 300tbp the more powerful sister tugs Alp Guard and Alp Centaurus launched in 2009 as Uranus and Ursus respectively.
Boris Szczesik, managing director Boluda Germany, said: "We are delighted to make our flagship Bremen Fighter with her home port of Hamburg and her experienced crew available for this important contract with German Federal Waterway Authorities and the Central Command For Maritime Emergencies in the Baltic Sea."