A solar roof project has been completed in the Netherlands which will produce 25 million kWh of power per year.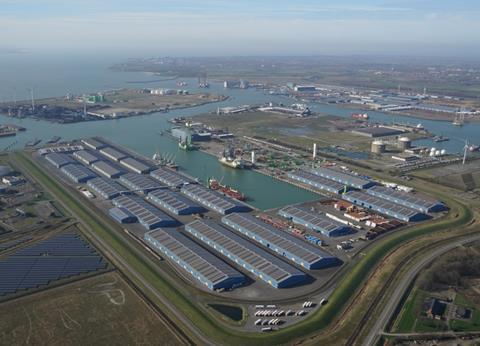 In collaboration with Verbrugge Terminals, KiesZon has delivered one of the largest solar roof projects in the world. The project in Vlissingen will create the equivalent amount of electricity as the consumption of approximately 9,000 average Dutch households.
"As a Zeeland company, we are very happy to realise this impressive project on our roofs. In this way we contribute to achieving the objective of the RES (Regional Energy Strategy) in Zeeland. We must continue to focus on clean energy sources," said Martin Verbrugge, director of Verbrugge International.
Clean power
The solar roofs were installed by KiesZon after Verbrugge Terminals took the initiative to use its many sheds to generate sustainable electricity.
For KiesZon, part of the Greenchoice Group, the project was a first. Erik Snijders, general manager of KiesZon, said: "We have applied something that has never been seen before, we have worked on a large scale with lightweight solar panels that we glued directly to the roofs. In total we are talking about about 3 megawatt peak."
"The flexible, lightweight panels have been carefully placed, tested and the way in which we mount them has been optimised. This extra element makes this already very special and beautiful project all the more special."
Connecting the solar panels required an enormous effort and multimillion-dollar investment from network company Enduris, now Stedin.
The company laid new cables from the distribution station in Vlissingen-Oost, partly through deep drilling under the port of Vlissingen.
"Making the impossible possible. That is what we have done together and of which we can be incredibly proud," said Machiel Joosse, who as key account manager was involved in this enormous sun-on-roof project from the very beginning in 2018.
"As grid operator Enduris (now Stedin), we have managed to avert threatening congestion by combining things in a creative and smart way in this unique project. This has led to this win-win-win situation for all parties involved."
The total number of solar panels installed at two Verbrugge locations in Vlissingen-Oost amounts to 77,250 which together will achieve an annual CO2 reduction of 15,000 tonnes.