Reflecting a growing trend for even nation states to outsource aspects of their maritime security, Sovereign Global has developed a fleet of offshore patrol vessels available for charter.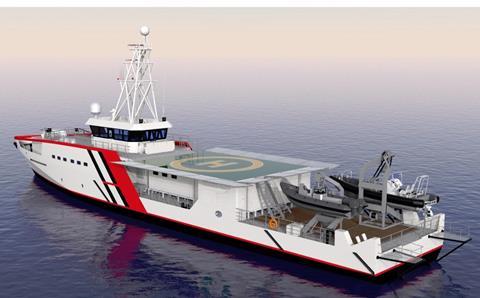 Sovereign's solution provides Governments, NGOs and multi-national corporations with an owned or chartered fleet of highly versatile, hybrid fuel and cost-efficient Offshore Patrol and COMINT Vessels, complete with crew and maintenance teams to cover the whole spectrum of offshore patrol tasks and intelligence gathering.
The OPV55 series are equipped with Next Generation Recognised Maritime Picture (NG-RMP), fast response interdiction vessels, Subsea Security Sonars, Intelligence, Surveillance and Reconnaissance (ISR) devices, live satellite imagery, Unmanned Airborne Systems (UAS) and MARPOL oil spill response equipment.
Flexible mission modules and modular manning quarters make customized mission configurations possible allowing the vessel to operate for different (government) departments and institutions.
All Sovereign Global OPV Solutions feature low-freeboard recesses on either side to facilitate secondary tasks such as humanitarian assistance, diving operations and boarding team transfers.
The OPV has a diesel-electric propulsion plant delivering an interception speed of 21 knots and a fuel efficiency of only 100 litres per hour at 11 knots patrol speed, bringing her operational costs down what Soveriegn claim is one of the lowest in the industry.
Equipped with a DP-1 position system, it is capable of facilitating missions such as Optical Reconnaissance, Drone / UAS launch and recovery, and the launch and recovery of the onboard fast response interdiction RIBs. For COMINT operations, an extended mast is added to carry the payloads for Iridium SATCOM Interception Monitoring and RADAR systems.
With a minimum capability of 30 continuous station keeping days at sea with 36 crew and embarked specialists, Sovereign Global has created an effective, cost-efficient and available answer to the growing challenges involved in maritime security, safety and sovereignty.
Sovereign Global has a unique track record providing total domain awareness systems in Europe and Africa for United Nations peacekeeping missions, providing assistance to sea lane freedom of movement maritime patrol programmes, including the monitoring of Exclusive Economic Zones against terrorism, IUU fishing, drugs trafficking and illegal transshipments.
By Jake Frith