John Haynes was awarded the Maritime Professional of the Year 2016 award at this year''s Seawork International.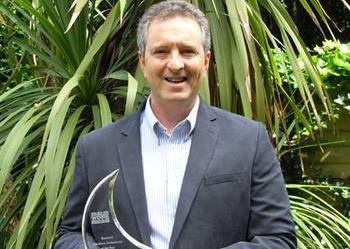 The managing director of UK-based Shock Mitigation was recognised for his exemplary work in the maritime sector.
James Ellison, who nominated Mr Haynes for his award, said: "John Haynes is a thought leader in the high speed craft, shock mitigation and hybrid marine power sectors with a unique ability to engage and create momentum globally."
"He has a passion for these sectors, rooted in his own maritime background. He has a genuine vision of improving people's lives on boats. His work with over 100 organisations is testament to this."
Mr Haynes has chaired technical conferences ranging from The Future of Wind Farm Support Vessels to Fast Interception and Riverine Operations, and is known for organising workshops with high level panel discussions to help solve industry issues.
In 2015, he set up a working group to assist the MCA create a Marine Guidance Note for lithium-ion and energy storage on vessels. His hybrid concept, The Hour of Power, combines diesel, battery and electric and has the potential to reduce fuel consumption and emissions for vessels worldwide.
Jonathan Young of Scot Seats, said: "John is a well deserving winner of the award, over the past few years he has put so much of his time into specialist areas of the marine industry whether it be in training people on the risks of repeated shocks at sea to pushing the development of hybrid power. It is most definitely not just work for John, it his is passion."
By Alice Mason