Spain's Oceantec Energy­as Marinas and CDA Bilbao Co. working with a team from the UK-based University of Exeter have successfully completed the final part of the commissioning of the Oceantec Marmok-A-5 wave energy device.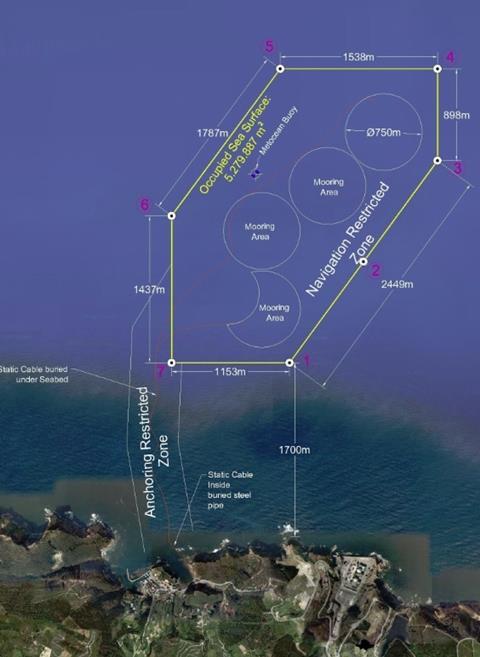 This installation operation was carried out at the Biscay Marine Energy Platform (BiMEP) in the Bay of Biscay, close to the northern coast of Spain.
The Marmok-A-5 is a low-capacity device, 42m in length and 5 m in diameter and weighing about 80 tonnes. It is installed in the vertical position and the generating system installed in the column comprises two turbines located in the upper part of the device that each has a rated capacity of 30 kW.
The device was commissioned after the team installed a mooring load measurement unit that will provide a data link to monitor extreme conditions at the site. The monitoring system data, which provides mooring tensions and device motion measurements, is planned to help researchers gain a better understanding of operational and extreme conditions that are likely to occur in similar conditions at other wave energy sites.
The second phase of this mooring monitoring operation is scheduled to take place in 2017 when the University of Exeter will replace the existing polyester tethers used to moor the column with elastomeric mooring tethers which have been developed by the University.
This wave energy technology development is supported by Open Sea Operating Experience to Reduce Wave Energy (OPERA), which is a multi cross-European project. Through OPERA, the University of Exeter is addressing the design and cost challenges of mooring similar wave energy projects through the introduction of a novel mooring elastomeric tether.
Lars Johanning, from the Renewable Energy department based at the University of Exeter's Penryn Campus in Cornwall and the principle investigator for the project, commented, "This collaborative European wave energy demonstration project will generate important data, which will enable the next phase towards commercialization of energy generation from the ocean. It joins novel ideas to address critical design criteria allowing the economic realization of energy generation from waves."
OPERA is part of the European Union's Horizon 2020 research and innovation program and is attempting to develop technology that will enable a reduction in offshore operating costs, which it thinks could pave the way for a 50% long-term reduction in costs. Thus, the program could accelerate establishing international standards and reducing technological uncertainties and business risks with regard to wave energy commercialisation.
BiMEP is an infrastructure testing site established to research and test the technical and economic viability of wave energy converters prior to their large-scale commercialization and is located 1.7 km off the coast of Armintza in Spain.
By Jake Frith