Dry Dock No.10 in Marseilles has re-opened after a major refit that included the construction of a new 5000 tonne entrance gate. The dry dock is the largest in the Mediterranean and one of the largest in the World and has been undergoing a refit that has lasted 3 years.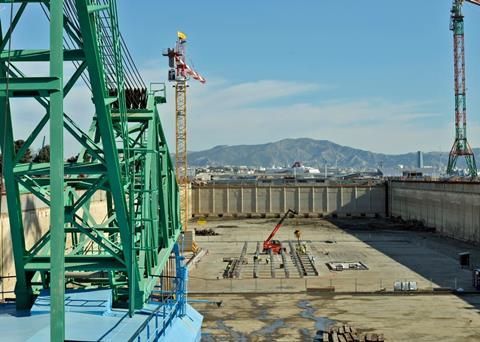 The dry dock is operated by Chantier Naval de Marseille (CNdM), and was originally built to accommodate the largest super tankers. With a length of 465 metres and a width of 85 metres the dry dock can now accommodate the largest container ships and cruise liners. About €10 million has been invested in the refit work. A spokesperson for the yard commented, "With the new facility, the shipyard will be able to position itself and the port of Marseille as a state of the art location for all ship -owners and cruise ships, tankers, cargo ships, RO/RO, container ships and offshore platforms will all be able to benefit from the extensive expertise and state of the art technologies of the yard."
Works to restore dock no.10 started in mid -2013 and included the construction of a new floating reinforced concrete gate which was constructed within the dry dock Also included in the refit was the overhaul of the pumping system, the repair of the lifting facilities and the redesign of all pipework and electrical systems.
Chantier Naval de Marseille now operates three dry docks in the port, Nos.8, 9 and 10 and employs about 120 people with a wide range of subcontractors available
By Dag Pike