Dutch marine power expert, Mastervolt, has introduced a new solid state relay which can efficiently charge two batteries from one source.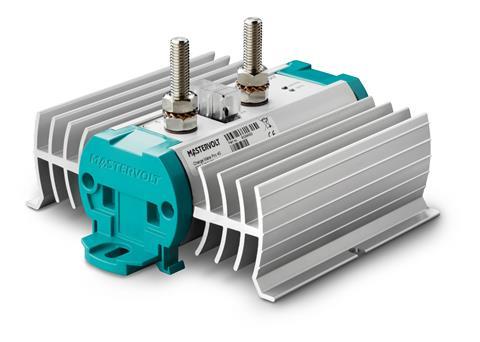 The Charge Mate Pro 40 connects both batteries during charging, but keeps them isolated from each other when being drained, significantly reducing the risk of a flat battery.
Unlike the earlier mechanical versions, the new Charge Mate Pro 40 does this by providing an electronic charge coupling with a very low voltage drop, making the charging of two batteries from one source at the same time both effective and efficient.
The new Charge Mate Pro 40 limits the charge to the second battery to no more than 40 Amps and ensures the primary battery (usually an engine starter) is charged as a priority. The return current is automatically blocked, even if the secondary battery is of a higher voltage. In the event of a failing main battery, an emergency start function is available by means of an optional bypass switch.
Mastervolt's Charge Mate Pro 40 has been ruggedly built for the marine environment and is suitable for all kinds of chargers and alternators. The electronics are rated to the IP67 standard and housed in a corrosion resistant casing, which is flanked by two aluminium heat sinks and features an LED status indicator.
Automatic battery detection means that this device will work with either 12V or 24V batteries.
By Anne-Marie Causer