Mercator Media Limited has agreed to purchase Maritime Contracts Journal (MCJ) from publishers Maritime Intelligence Ltd.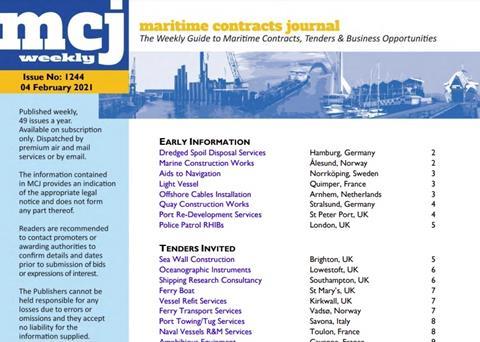 The long established MCJ is a weekly, subscription business bulletin that provides information about contracts, tenders and business opportunities in the commercial maritime industry. Its audience is main contractors, sub-contactors and their consultants. MCJ identifies, on average, new tenders and sub-contract opportunities representing some £130 (€170) million each week.
Mercator is a B2B media company that provides business information to the marine industries though magazines, exhibitions, conferences and online. Mercator publishes the pan-European commercial marine magazine Maritime Journal and produces both Seawork, Europe's largest commercial marine and workboat exhibition and M&CCE, a leading exhibition which showcases the latest equipment and techniques in marine civil engineering and construction.
Andrew Webster, Chief Executive of Mercator commented, 'Mercator is a great, new home for the Maritime Contracts Journal. It fits in very well with what we do, complementing our magazines and events that overlap this marketplace. We are very much looking forward to seeing what the bright future holds for MCJ here at Mercator.'
Commenting on the acquisition, Peter Moth, Managing Director of Maritime Intelligence Ltd said: "New opportunities for MCJ under the Mercator flag are set to enhance the content and presentation to levels that could not be achieved as a standalone publication. We expect MCJ to become a vital resource for the post-lockdown recovery of the commercial marine industry in the months and years ahead."