Elcome International is aiming to expand its reach in the global commercial marine market following a new agreement with McMurdo.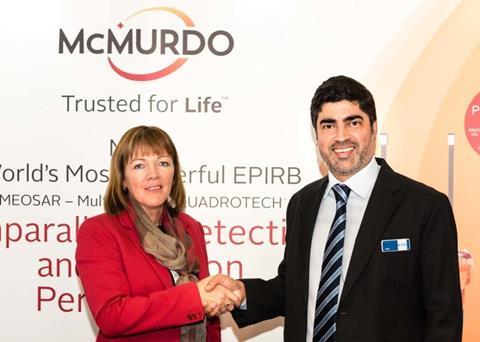 The deal will allow Elcome to offer McMurdo's Global Maritime Distress and Safety System (GMDSS) range of search and rescue equipment to its growing customer base throughout the Middle East.
"McMurdo is a highly respected brand in the maritime safety sector, and their products will help to fill out our range of GMDSS offerings for our customers, complementing our growing marine safety business area, said Jimmy Grewal, executive director of Elcome International.
The range of McMurdo search and rescue equipment which can now be offered by Elcome includes; Emergency Position Indicating Radio Beacons, SARTs (Search and Rescue Transponders), VHF radios, and its Fast Find range of Personal Location Beacons.
Justine Heeley, managing director at McMurdo UK, said: "We are proud to be working with Elcome to supply our high quality and industry leading portfolio of products to shipping, government and infrastructure projects across the globe."
"Combining our experience and expertise in the search and rescue ecosystem and Elcome's unrivalled reputation and access to international markets we are confident of securing additional growth."
By Alice Mason