Designed in Spain and built in Turkey for Italian owners, the recently launched multipurpose escort tug ''Paraggi'' is another example of Mediterranean-based tug production activity.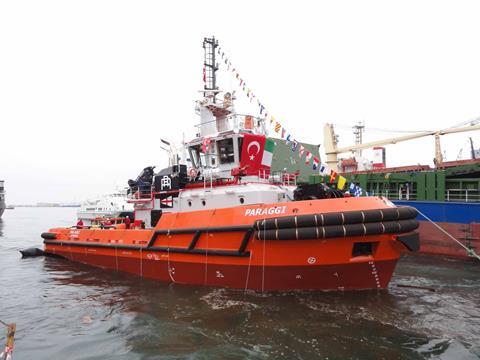 As normal with Turkish-built tugs, Paraggi, built by Bogazici Shipping was launched under an initial yard name, Bogazici 25 before being renamed for its owner Finarge Armamento Genovese SRL. The design is from Spanish naval architects Cintranaval Ship Design.
Paraggi is described as a multipurpose ASD escort tug classed by BV with the notation: 100+HULL, MACH, Escort Tug, Salvage Tug*, Fire-fighting Ship 1, Water Spraying, Unrestricted Navigation, Oil Recovery Ship (F.P.<60'C)**, AUT-UMS, AUT PORT, Cleanship.
Main particulars include: length 32.5m, breadth 11.7m and design draught 4.3m. Power is provided by two Caterpillar 3516C main engines each developing 2,100kW, Caterpillar also provide two gensets. Propulsion is from Schottel SRP 1515 thrusters with controllable-pitch propellers developing 70+tbp. A 160kW electrically-driven bow thruster is also included.
Dutch deck machinery manufacturer Kraaijeveld supplied two towing winches. The foredeck is home to a 70t single split-drum escort winch while for conventional towing a 45t double-drum winch is fitted aft. A 70t SWL towing hook is also provided along with towing pins, 130t SWL stern roller and an ILO certified deck crane.
Accommodation complying with MLC 2006 rules and Italian flag regulations is provided for 10 persons and a detail from the wheelhouse is that Paraggi is licenced for GMDSS Area A3 operation.
Some brief details about the main players involved with this tug. Finarge Armamento Genovese Srl was formed in 1981 and one of a number of companies fully controlled by Rimorchiatori Riuniti SpA. Main area of activity for Finarge is the offshore industry including deep-water projects and is particularly active in Brazil.
Boğaziçi Denizcilik A.Ş is a privately-owned company which in its early years gained experience with the sale and purchase of ships, later moving into building vessels for its own clients. It has a wide-ranging catalogue including tugs designed by Cintranaval and Robert Allan Ltd.
Cintranaval has over 50 years' experience in ship design in the global market. As well as tugs and offshore vessels it has a solid reputation with the design of deepsea fishing vessels. Patrol boats, general cargo vessels and yachts are also designed by Cintranaval.
By Peter Barker