Meercat Boats, headquartered in Hythe Marine Park by the Port of Southampton, is currently host to three Meercat MRVs - one ready for sale, one currently undergoing refit and the third in use as a landing craft and ready for charter.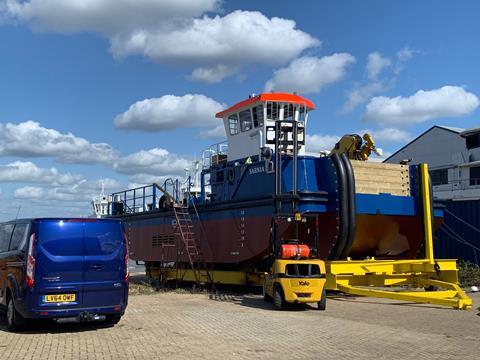 John Buck, Meercat Boats' business manager, said that the company's facilities and team were ideally positioned to support the workboat market throughout the life of a vessel.
"Meercat's longstanding team-members have an impressive ten-year pedigree having built many vessels, all of which are in active commercial service across the globe," he said. "Our builds and standard of craftmanship are regarded as best-of-breed, hence why we are the first choice of so many vessel operators including BAE Systems and, of course, Guernsey Harbours."
The 15m MRV Toploader is in at Meercat HQ for a refit and refurbishment, in readiness for her pending sale to mainland Europe, where she will undertake general workboat duties as well as mooring, ship servicing, dive support and civil engineering operations.
The new Meercat MRV15 being built for Guernsey Harbours is receiving her final touches having successfully completed sea trials. Sarnia has been customised to match Guernsey Harbours' needs, which are to deliver the best number of port and harbour servicing operations achievable in one vessel.
Finally, the 22m landing craft MRV22LC, Toplander, which is owned and operated by Topbond, is currently berthed at Meercat in Southampton, ready to depart on her next charter where she will primarily operate in aquaculture support and port maintenance.
By Rebecca Strong