'HMS Brocklesby', one of the UK Royal Navy's eight Hunt Class minehunters, has had her engines renewed after 33 years of service.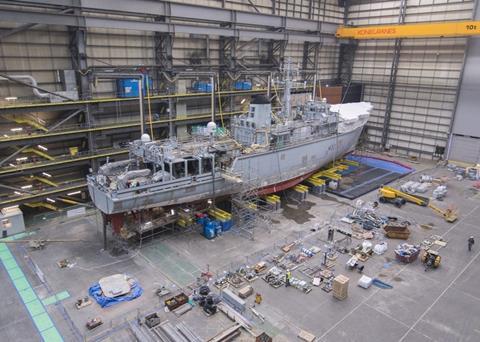 BAE Systems engineers carried out the work at Portsmouth Naval Base on behalf of the Royal Navy as part of the ship's year-long deep maintenance period. The maintenance is taking place within the Minor War Vessels Centre of Specialisation, which forms part of the large ship hall complex on the naval base.
In addition to the installation of the new and more economical Caterpillar diesel engines, the deep maintenance work on HMS Brocklesby includes replacing control systems and overhauling generators in order to extend her service life for another 15 to 20 years.
In total, BAE Systems staff will spend around 190,000 hours carrying out a total of 9,000 maintenance tasks, overhauling the chilled water plant to fitting new propellers on the 600-tonne ship. The ship's crew will also benefit from upgrades and refurbishment to the galley.
HMS Brocklesby's deep maintenance period is scheduled for completion in 2017.
By Jake Frith