Shane Ross TD, Irish Minister for Transport, Tourism and Sport visited the Irish Lights facility in Dun Laoghaire in November.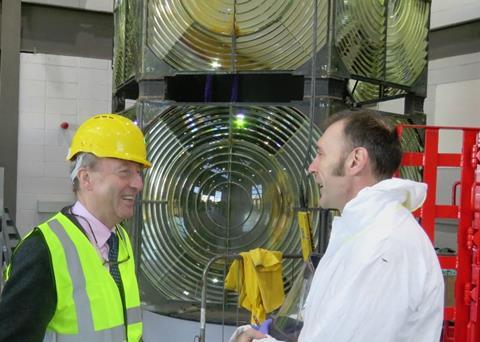 Minister Ross heard about the range of new technologies that are enabling better navigation services for the mariner and the provision of new services such as environmental and ocean data for improved weather forecasting and planning of commercial activities at sea. Irish Lights also supports the Great Lighthouses of Ireland initiative which sees almost 200,000 tourists annually, visiting working lighthouses around the coast of Ireland north and south, and offers 19,000 bednights in lighthouse accommodation year round.
Irish Lights operates an essential safety navigation service around the island of Ireland aimed at protecting people, property and the environment at sea. The service ensures that over 300 general aids to navigation (physical and electronic) operate reliably and to international standards around our coast 24/7 and 365 days of the year. Irish Lights also inspects and monitors over 4000 local Aids to Navigation around the coast.
By Jake Frith