The NJORD is the first project to see the light of day as a result of the collaboration between AISTER and the company run by Bård Meek-Hansen.
Under the name NJORD, it is also the first ship built in Spain using friction-stir-welded panels.
After being launched at the beginning of this week, the catamaran has already been loaded onto a ship that will transport it to Norway to start operating.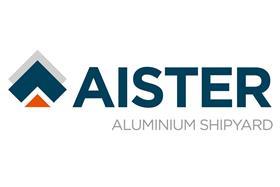 It was in February 2022 when the collaboration agreement between AISTER and GMV was announced, the shipyard located furthest north on the planet. A milestone that would allow us to reinforce our strategy of building eco-friendly ships. Now, one year later and after several months of intense work, the first project from this strategic partnership has been completed in the AISTER facilities in Moaña, becoming the 84th construction for our shipyard and 184th for the Norwegians.
This is the first catamaran constructed for the salmon aquaculture industry. A mooring handling vessel that will work as a tool to control and move the fish cages, as well as for mooring line maintenance.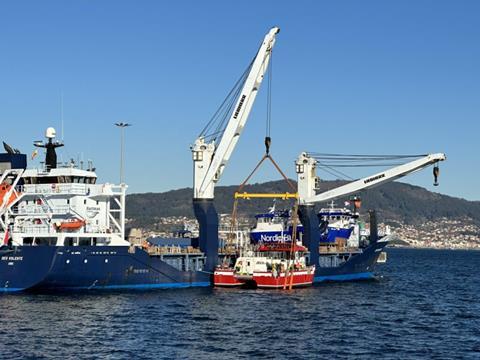 It is a simple ship but, at the same time, with several characteristics: it has keel cooling, which are external coolers attached to the hull; it has transverse maneuvering propellers at the bow and stern; it has two propulsion engines, with shaft lines with controllable blades, what is known as variable pitch propeller, and a generator.
With a length of 15 meters and a beam of 10 meters, the NJORD catamaran also has a complex hydraulic system to supply all the hydraulic equipment, a winch, and various deck equipment, including two cranes, one with a capacity of 65 t·m and another with a capacity of 33 t·m.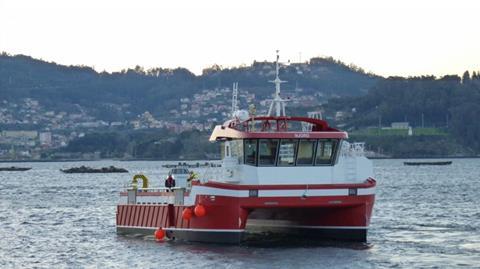 The first one built in Spain with friction-welded panels
It has undoubtedly been several months of hard work for AISTER from the start of construction to the launch and completion of the project. Work that, thanks to the union between our shipyard and GMV, has been resolved by achieving a new milestone, as this is the first catamaran built in Spain using friction-stir-welded panels.
On this case the project had Norwegian design and AISTER has provided the hull fabrication, hydraulics, electrical installation, piping, painting, fitting and insulation, apart from the assembly of all interior and deck equipment.
The NJORD, heading to Norway
With construction and final equipment work completed, the NJORD was launched this week in the Vigo Bay and on Wednesday, February 8th, she was loaded onto the ship responsible for transporting it to Norway, where it will begin operating for the Mortenlaks shipowner, known for its commitment to sustainability.