The Dutch Police has ordered six patrol vessels from Damen Shipyards for its 'Zeehavenpolitie' and 'Landelijke Eenheid' units.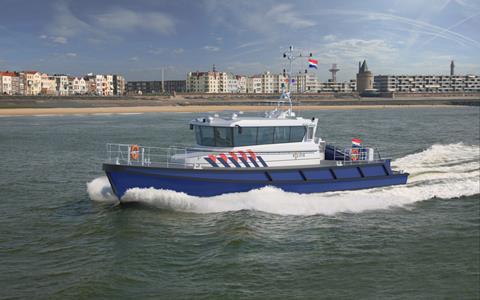 Three of the new vessels are seagoing (the Stan Patrol 2506) and the other three are for the inland waterways (the Stan Patrol 2005). All six will be built at Damen's headquarters in Gorinchem in the Netherlands, and are due to be delivered between 2019-2021.
Jeroen van Woerkum, Damen Shipyards Sales Manager Benelux is delighted to have won the European tender for the six patrol vessels. "We used our expertise and the knowledge that we have built up over the years and optimised it with the latest fuel saving and environmental technologies."
Lower fuel consumption
"These patrol vessels, built from aluminium with a composite superstructure, are lightweight, have less resistance, higher performance and lower fuel consumption. Damen was able to achieve the very strict requirements for reducing noise and the environmental impact and even exceed them." Damen's extensive R&D efforts have led to a big reduction in noise and vibrations, improving crew comfort, he adds.
Exhaust treatment equipment
The patrol vessels already comply with the new environmental rules (Euro Stage V for inland vessels) for cleaner exhaust emissions, which are being introduced in 2020. "These vessels are actually a step ahead of the regulations. In 2020, vessels have to have after-treatment installations on board but these new patrol ships will already have this equipment."
Slipway for RIB launch
Another important addition is the installation of a slipway on the aft of the seagoing, Damen Stan Patrol 2506 from which the RIBs can be launched. Previously, patrol vessels of this size would have to use a crane and a davit. "The slipway is operationally safer, more reliable and the launch of the RIB is much faster. RIBs can be launched in higher wind speeds for example. The slipway also makes it much easier to retrieve the vessel."
Although details cannot be revealed, the layout of the wheelhouse has been fully customised and the vessels will be equipped with night vision technology. The six will replace existing vessels and be deployed in the North Sea and on Dutch waterways, and in the ports of Vlissingen, IJmuiden and Rotterdam.