Recently, team AkzoNobel completed its first Volvo Ocean Race, concluding the final leg in second place and finishing fourth overall. The team finished on the podium on six of the eleven legs. During the race, the team was supported by two Damen Workshop Containers. The two containers leapfrogged each other across the 11-legs and 83,000 km of the round-the-world race, ensuring that team AkzoNobel had onshore support every step of the way.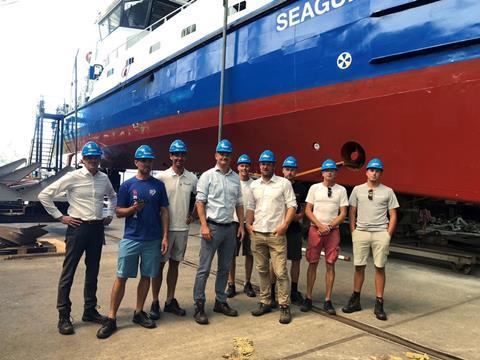 The provision of workshop containers was a natural way for Damen to offer support to the team. The shipyards group has extensive experience in logistics and in the provision of services to ensure optimal vessel performance in terms of both safety and efficiency, from its shipyards and Service Hubs all over the world.
According to Simeon Tienpont, team skipper and double America's Cup winner, the containers enabled the team to compete with those who had prior existence of the race.
"Even the appearance of the set-up was good, the containers looked fantastic – a lot of people noticed this."
In fact, in the spirit of collaboration often employed by Damen, the team on occasion shared some of the equipment with their competitors.
"We were the best equipped team in the race," continues Simeon. "In a campaign like this, it's important that everything must come together – and it did. The partnership with Damen enabled us to compete with teams, some of whom were on their eighth Volvo Ocean Race attempt.
"The containers were actually luxurious – they were like a second home to us. We even used them to host guests for drinks one evening! And they certainly helped with our performance. You are only as safe and efficient as your preparations. Partnering with Damen we were able to come up with a solution that matched our needs perfectly."
And the team certainly did perform; on leg 9 between the USA and the UK they set a new outright 24-hour distance time for the Volvo Ocean Race, covering 602.51 nautical miles.
The Volvo Ocean Race is a grueling round-the-world yacht race, held every three years. The 2017-18 edition started in Alicante, Spain in October last year. The course circumnavigates the globe, crossing four oceans and more then 80,000 km before culminating in The Hague, the Netherlands in June.
The 2017-18 Volvo Ocean Race marked the debut of the Dutch team. The team's principal sponsor is a leading global paints and performance coatings company and major producer of speciality chemicals supplying assorted ingredients, protection and colour to industries and consumers worldwide.
Damen called upon its network of suppliers to supply the equipment for the Workshop Containers, including Den Breejan (painting), Franssen Groep (insultation), Caru (containers), Van der Peijl Techniek (tools and equipment), Pooters (marine panels), Eekels (electric installation), De Ruijter (floor coverings), Van Caetenburgh (graphic design) and Esbi (decals).