A pioneering project, supported by Rotec Hydraulics Ltd, has achieved a fully autonomous ship sail across the Atlantic Ocean.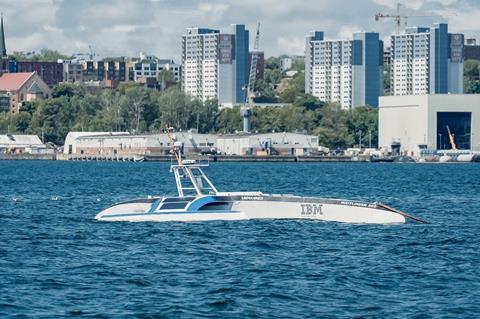 Solo and unaided, the Mayflower Autonomous Research Ship (MAS) set sail from Plymouth harbour in the UK and reached its end destination of Plymouth USA on 30th June 2022 after 36 days at sea and 3,900 miles, having made two stops in Horta (Azores) and Halifax (Canada).
The futuristic vessel was powered by AI and powered using renewable solar energy technology, and a backup diesel generator for night sailing. Throughout the journey, the vessel collected data that researchers hope will provide critical information in the battle to safeguard the future of our oceans. A challenging project relied on a diverse team that spanned 10 countries and 3 continents, including Rotec Hydraulics Ltd.
ProMare, a US based non-profit organisation with a branch in Plymouth UK, teamed up with IBM to build the third Mayflower and asked Rotec to supply a range of hoses and hose assemblies to support the project. Rotec was also pleased to be able to help spread the word of crowdfunding efforts at the start of the project.
Brett Phaneuf, Managing Director of the MAS Project, commented:
"[The Mayflower Project is] ushering us into a new phase of oceanographic and climatological research with state-of-the-art technology."
Paddy Dowsett – Project Manager, MSubs says:
"This project brings a number of new technologies together in a way that hasn't been done before. There are some smaller autonomous crafts in existence, however nothing anywhere near this scale in terms of size and technicality."
Find out more about the project, including live video stream when the vehicle is on a mission and footage from previous journeys at https://www.mas400.com/.