Williams Shipping's fast launch, Willfetch is now on the berth at her new home in Pembroke Dock. The vessel is ready and waiting to transfer passengers throughout the haven and the anchorages, continuing the company's commitment to long-term investment in Pembroke's marine industry.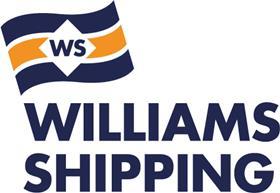 The Vessel
The Lochin Marine 38G.D.S.V. pilot boat has been part of the Williams Shipping fleet for several years. Named 'Willfetch' she has previously been transferring ship's crew, agents, pilots, samplers and engineers from the company's marine base in the Port of Southampton.
Powered by a pair of Yammar main engines with generating 740hp, she can reach speeds of 22kts and carry 12 passengers.
Commitmmennt to Marine Industry
Williams Shipping signed a new lease with Milford Haven Port Authority in February 2022 which will keep us operating and providing marine services in Pembroke Port for the next 15 years, continuing the company's commitment to long-term investment in marine and renewables industries.
General Manager of Williams Shipping Pembroke said," We have been operating in Pembroke Dock and Milford Haven since 2004. In February, we signed a new lease with the port to be able to work even closer with them and our colleagues in the marine industry. Bringing Willfetch into our Pembroke fleet opens a new service that we can provide to larger vessels and the port itself. We will become one of the only providers of crew transfers and pilot boats in the area, and the company with the most experience."
Williams Shipping provides the port with services and solutions including stores deliveries to ships at the oil and gas terminals, crew transfers, navigation mark servicing, oil pollution prevention services, offshore renewable energy support, marine civil engineering support including providing crane barges, towage services and supplying containers through our subsidiary Willbox.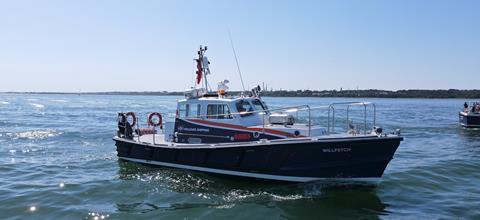 About Williams
Williams Shipping is a family business established by George Williams in 1894, now run by the fourth and fifth generations of the Williams family. George converted an ex-Royal Navy pinnace into a sailing barge and carried loads such as building materials and grain across the south coast of England and to the Isle of Wight. As marine and transport industries have evolved the company has developed alongside, supporting growth, and creating marine and logistics solutions at every stage.
Today, Williams Shipping assists the UK's marine and logistics industries with a broad range of services. The Marine division provides services including towage, craneage, stores deliveries, equipment hire and crew transfer, operating a fleet of 27 workboats, launches and barges, including dedicated wind turbine blade transport. From our headquarters in Southampton and marine bases in Milford Haven and Aberdeen. Williams Shipping provides specialist services and expertise to the transport, marine, construction, engineering, defence, renewable energy and shipping industries, including logistics services, marine lubricants, container hire, and storage facilities.

Williams Shipping
Willfetch - Pembroke
Supporting documents
Click link to download and view these files
PDF, FileSizeText 0.64 mb