Williams Shipping have procured a new fast launch vessel which will allow them to expand on their current marine offering. The vessel will be ready for commercial use in May, continuing the company's commitment to long-term investment in the marine industry.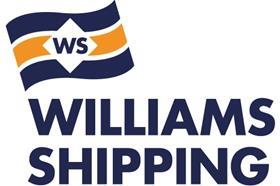 The vessel
The Interceptor 48 Pilot Boat was built by Safehaven Marine in Ireland. Named 'Willfreedom' she has been built for Williams Shipping and their operations at the Port of Southampton in the UK. She will be used primarily for crew transfer operations, passenger transfers and pilot transfers.
Powered by a pair of Scania DI13 500hp engines and fitted with a 7kw AC generator she has a top speed of 26kts operational speed. She is capable of carrying a total of 12 passengers and 2 crew. She utilises shock mitigation seating with a central helm position. She has a fully air-conditioned main cabin and a spacious lower forward cabin, allowing extended operations capability.
Incorporating pilot boat features including special polyurethane bonded fendering system to fully protect her during boarding operations in heavy weather and fitted with our proven MOB recovery platform.
Willfreedom has undergone successful sea trials and will be picked up in May by the Williams Shipping team and taken down to Southampton. She will be exhibited by Safehaven Marine on the Seaworks pontoon from 21st – 23rd June
Commitment to marine industry
"Willfreedom will expand our fleet and allow us to complete quicker and safer passenger transfers across the south coast," said managing director, Philip Williams. He continues "It is also an opportunity to make more of our fleet available in our Pembroke Port base which expands our capabilities in the Port of Milford Haven. Everyone at Williams Shipping is very excited to christen Willfreedom and see her in action"
Safehaven Marine
Safehaven Marine are designers and builders of a wide range of vessels from FRP Pilot boats to unique custom private motor yachts. They were established in 1996 and have built 150 vessels supplied to 28 countries worldwide with over 50 pilot vessels in operation globally.
Based in Youghal, Co Cork Ireland, Safehaven manufacture our vessels from two modern factories, with all design work carried out in house, and built with our own experienced team of engineers, carpenters, electricians, shipwrights and laminators.
Note to Editors
Williams Shipping is a family business established by George Williams in 1894, now run by the fourth and fifth generations of the Williams family. George converted an ex-Royal Navy pinnace into a sailing barge and carried loads such as building materials and grain across the south coast of England and to the Isle of Wight. As marine and transport industries have evolved the company has developed alongside, supporting growth, and creating marine and logistics solutions at every stage.
Today, Williams Shipping assists the UK's marine and logistics industries with a broad range of services. The Marine division provides services including towage, craneage, stores deliveries, equipment hire and crew transfer, operating a fleet of 27 workboats, launches and barges, including dedicated wind turbine blade transport. From our headquarters in Southampton and marine bases in Milford Haven and Aberdeen. Williams Shipping provides specialist services and expertise to the transport, marine, construction, engineering, defence, renewable energy and shipping industries, including logistics services, marine lubricants, container hire, and storage facilities.
https://www.williams-shiping.co.uk
https://www.safehavenmarine.com/home
https://www.pembrokemarinerenewables.co.uk/
https://www.williams-shipping.co.uk/marine/vessel-charter/workboats-tugs/willfreedom/
https://www.linkedin.com/feed/update/urn:li:activity:6912035352975155200
Websites
We are not responsible for the content of external sites