Marine Jet Power (MJP) waterjets have been selected for a contract valued at GB£9m.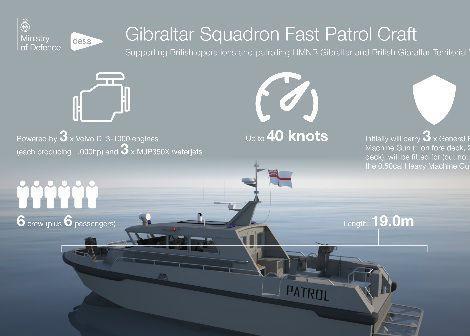 British company Marine Specialised Technology (MST) has selected MJP Waterjets for the recently awarded UK MOD Royal Navy Gibraltar Squadron Contract. The two 19m fast patrol craft for the Gibraltar Squadron will be built by MST and will feature triple MJP 350 X Series waterjets and Volvo D13-1000 (1,000 hp each) engines.
The two new boats will replace HMS Dasher and HMS Pursuer, the Gibraltar Squadron Fast Patrol Craft, and will be used to patrol the HMNB Gibraltar and British Gibraltar Territorial Waters.
Project manager for Defence Equipment and Support's (DE&S) Boats Team, Mark Milsom, said: "These boats will provide the Royal Navy Gibraltar Squadron with a modern fast and effective capability for fulfilling their important role."
Adam Mills, technical sales manager for Sweden-headquartered MJP, said: "The MJP X Series jets are particularly well suited for this project because of the high-speed requirement. With the predicted speed of 40 knots the MJP jets will offer high performance and efficiency as well as excellent maneuverability."
Construction of the two boats began in July and MJP will begin delivering waterjets later this year.
The X Series provides users with more power in a lighter unit that burns less fuel and extends range over comparable alternatives, thereby reducing cost of ownership.
By Rebecca Jeffrey