When two new buoys able to withstand exposed conditions in the outer channel at Barmouth Harbour, Wales, UK were required, the Mobilis T1200 was an obvious choice.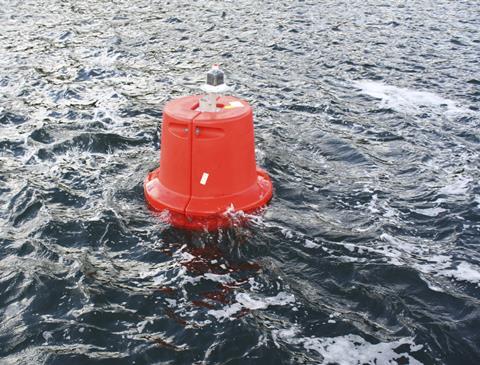 The North Wales harbour is managed by Gwynedd Council required buoys to stay upright in fast flowing conditions, be visible from a distance to provide safe navigation and also durable enough for the rough conditions the area can experience.
"We suggested the Mobilis T1200 as the buoys were needed for a very exposed area. The buoys are very tough buoy and will be able to withstand the waves and storms," explained David Foster, technical sales area manager for Hydrosphere that supplied the buoys.
"The buoys are very good quality and provide good value for money. They have a galvanised steel structure and were the ideal solution."
And says senior harbours officer Arthur Jones for Gwynedd Council, the buoys are standing up well to the conditions to date and everyone is very pleased.
"We went for them as the starboard hand mark especially is very exposed and the area is subjected to heavy seas," he said. "It's exposed to the prevailing South West winds and is exposed to regular high waves.
"The buoys are slightly larger than the ones we had before. They have good stability and are good solid buoys."
He added: "Cost was also a feature. We did have to look at the price and compare this to quotes from other companies."
The T1200 Mobilis buoys are 1.2m diameter and each fitted with a self-contained Vega VLB-2 light - a high capacity solar light that provides 2NM performance in high latitude applications.
They have a daymark shape containing an internal radar reflector, making them suitable for use in coastal and river locations. In addition, they are designed so mooring chain can be attached at different heights to the buoy ensuring it will remain upright in fast flowing areas, a key factor for Barmouth Harbour.
The buoys that have been replaced are the starboard hand Bar Buoy and the outer port hand buoy.
Visit Hydrosphere UK Limited at Seawork International 2016 on stand PY80.
By Katina Read