A new project is set to revolutionise local renewable energy generation and storage following the development of a modular construction system, writes Dag Pike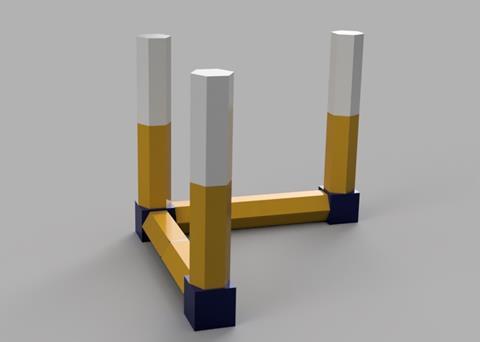 The £1.4million Marlin Star project, led by Plymouth-based technology developer Frontier Technical Ltd. and funded by the Energy Catalyst program, will progress the development and commercialisation of this innovative modular, floating renewable energy platform that will enable coastal communities access to stored and transferable clean energy. By using modular construction the system avoids any requirement for massive construction sites and heavy lift equipment, factors that make it suitable for smaller scale local operations.
The Marlin modular floating platform is the patented invention of engineer Trevor Hardcastle. He commented, "Our intention is for the configurable Marlin floating platform to be a UK innovation success story. We will apply UK research, technology and manufacturing expertise and export to countries in need of replacing fossil fuels and wood burning with cost-effective sustainable renewable energy that can be operated and maintained locally."
The system is based on modules that have a hexagonal cross section, a shape that allows the modules to be bundled together to form larger structures. It is planned that construction of the modules could be in concrete, steel or composites and each module could be outfitted for a different purpose depending on the final requirements of the completed structure. Possible outfitting could include ballast tanks, energy storage such as batteries or hydrogen and even propulsion.
For providing power to remote communities the final structure could be in a semi-submersible form with underwater buoyancy providing support for vertical above water columns that could support a wind turbine. Proposals have been developed for a 50kW turbine to be built as a prototype unit for trials in Plymouth Sound and this would then provide the confidence to move forward to a 2mW turbine unit which would be the standard configuration.
Engineering services firm Francis Brown Ltd will progress offshore fabrication and Tension Technology International will be working on an innovative synthetic mooring and anchoring system, with Plymouth Marine Laboratory deploying and testing the platform offshore. Offshore Renewable Energy (ORE) Catapult will undertake market analysis and the mechanical testing, assembly and initial demonstration of the floating platform.