The Finnish technology group Wärtsilä has been contracted to provide the waterjets for a new high speed ferry being built by the Incat Tasmania yard in Australia for Malta based Virtu Ferries.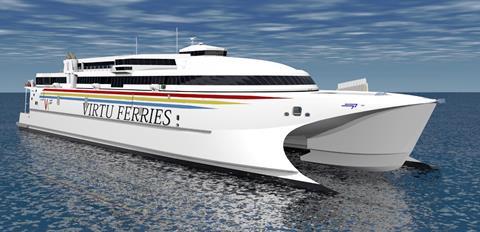 When delivered, this vessel will be the largest high speed catamaran operating in the Mediterranean Sea, and will have a service speed of up to 38 knots. The order with Wärtsilä was booked in March 2017.
The scope of supply covers four Wärtsilä LJX1500SRI waterjets and a Lipstronic control system. The equipment is scheduled to be delivered to the yard in April 2018 and the ship is to be delivered to the owners at the end of 2018.
The 110 metre wave-piercing catamaran will operate between Malta and Sicily and will complete the crossing in approximately 90 minutes. The vessel will have a capacity for 900 passengers in four lounges on two passenger decks. It will also have the equivalent of 490 truck lane metres for 167 cars.
Wärtsilä modular waterjets feature a compactly designed axial pump with excellent efficiency, cavitation and noise characteristics. The high performance components are in stainless steel to prevent wear and corrosion, while the water lubricated bearing in the stator bowl provides an environmentally friendly solution. The inlet design is tailored to the outline and operational profile of each individual vessel.
By Jake Frith