A Modulift spreader has combined with a 45m-long beam attached to a gantry and a crawler crane to develop a solution for lifting 750t monopiles which are set for the Nordsee One offshore wind farm.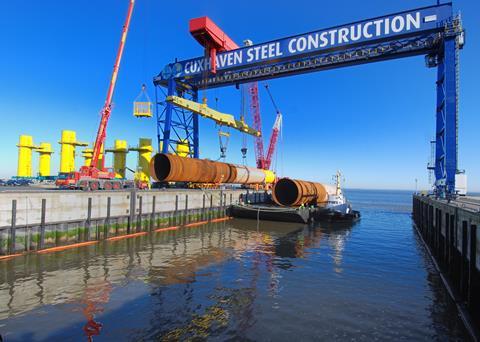 The monopiles were tandem lifted from pontoons onto land in Cuxhaven on Germany's North Sea coast, following Schmidbauer GmbH & Co. KG being challenged to complete the project by Cuxport GmbH.
It was full of complications due to the crane only offering 600t of lifting capacity and the beam itself had a net weight of 100t. Therefore, the gantry was originally only suitable for 500t of lift.
Philipp Verges, sales manager global projects and key account manager offshore at Schmidbauer, explained: "Slings came together in a 600t hook block that allowed us to complete turning of the monopiles."
"The rigging around the monopiles had to be kept short so we had to deliver [125t] Polytex slings at a special length to fulfill the requirements."
There was a special coating on the monopiles that meant attaching rigging equipment was not possible at all points. While height was limited and there was 20m of distance between the gantry's hooks that were positioned 10m to each side of the centre.
The lift planning team discovered that there were two lifting lugs in the centre of the 45m beam offering a more convenient distance of just 4.75m.
Mr Verges, explained that they were 90 degrees in the wrong direction and the beam was originally manufactured for special lifting of three-legged tripiles, this meant the forces applied during lifting would have broken the eye plates.
The beam, which was sourced from Schmidbauer stock, was then used as an inverted spreader, owing to the two pick points above it and the need to bring the slings together in one point.
Schmidbauer provided a Liebherr crawler crane with wheeled counterweight carrier that allowed it to lift even the second row of each pontoon load from the barge without turning it.
Thirty monopiles were lifted in five months, with two traveling on each pontoon to Ambau GmbH in Germany.
Mr Verges concluded: "If a smaller crawler crane was used, after picking up the first row, Schmidbauer would have had to turn the barge prior to lifting the second unit. Otherwise, the distance would be too far."
By Alice Mason