Work has started on the major land reclamation project planned for the state of Monaco. The project will add 6 hectares of valuable land to the tiny state and will be used for high rise apartments in additions to a variety of public facilities.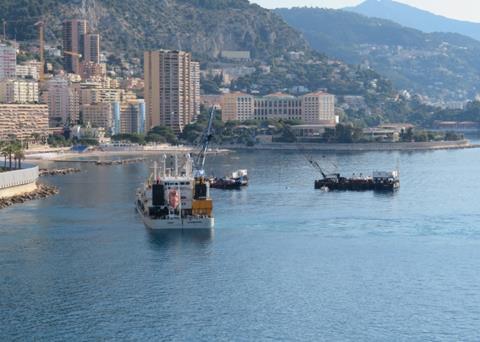 The new area will be enclosed by a series of very large concrete caissons reinforced with rock armour on its seaward side and then the enclosed area will be in-filled to create the new land.
The initial work underway at the site is the preparation of the seabed to receive the caissons and the removal and preservation of valuable species in the area. The dredger Tiger owned by Jan de Nul is working on the site along with a backhoe dredger with the main contractor Bouygues Construction responsible overall for the project.
As part of the design and construction of the new Portier Cove eco-neighbourhood in Monaco, Bouygues Travaux Publics has been contracted to build the maritime infrastructure with the site enclosed by 18 trapezoid reinforced concrete caissons. The caissons will be precast in the Marseille-Fos Port with work about to start.
The precasting unit will be installed in the east basins of the Marseille-Fos Port. Offices, living quarters and site parking will be installed on a 11,900 square metre wharf in the northern outer harbour. The caisson precasting area consists of a 10,000 square metre working space at the dock, which will be used primarily for preparing the reinforcements and assembling formwork for the caissons. It also includes a 32,000 square metre area of water where a floating dock will be positioned. A first in France, this 56-metre-long, 50- metre-wide and 27-metre-tall floating dock will make it possible to prefabricate the 18 caissons.
On dry land, the first step is to make the raft for each caisson and the first ten meters of concrete slab using sliding formwork. Under the weight of the caisson under construction, the deck of the floating dock is progressively immersed, enabling the casting of the concrete slabs to be completed. The caisson is then floated and removed from the floating dock, ready to be towed along the coast to the site at Monaco.
Production of the 18 caissons will start in September 2017 and will last until March 2019. The construction of the maritime infrastructure in Monaco will also require substantial deliveries of rock, which will be used for the backfill, embankment and ballasting of the 18 caissons.
Approximately 1,560,000 tonnes of materials will be extracted from a quarry at Chateauneuf-les-Martigues and transported in 30,000 tonne loads from Fos-sur-Mer on Jan de Nul ships. For Phase 2, 900,000tonnes of material will be transported from the Someca quarry at Revest in smaller loads.
By Dag Pike