The Police Maritime de Monaco has ordered its largest patrol boat to date in order to extend the range of patrol and monitoring in the waters offshore from the Principality writes Dag Pike.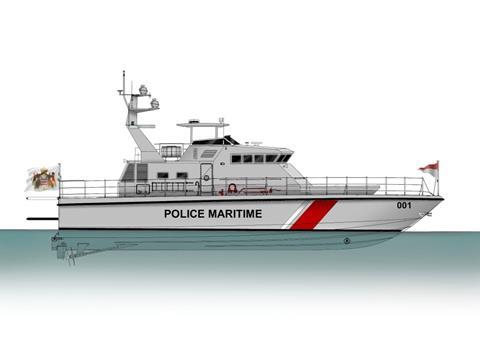 The new patrol boat from the Italian shipyard of Effebi will have a hull length of 22 metres and an overall length of 23.80 metres making it the largest patrol ever to operate in the waters offshore from Monaco. Construction is underway in the Carrera shipyard of Effebi, one of three yards operated by the parent company Mangusta that also builds a range of fast leisure craft. Effebi was established in 1983 by the Balducci family to exploit the company's expertise in high performance designs into the military and para-military sectors.
The Monaco patrol boat will have a displacement of 60 tonnes with a beam of 5.60 metres. The hull is a conventional deep vee with a cutaway forefoot and full hull lines, designed to cope with adverse sea conditions. Construction is in composites, the material in which the company specialises and a heavy duty fendering system is in place to protect the hull when going alongside at sea.
Power comes from a pair of Caterpillar diesels of type C32, that each produce 1342kW and these drive through a conventional shaft and propeller system. Twin bow thrusters are fitted to give redundancy and to assist with manoeuvring within the tight confines of Monaco harbour. The engines feature the latest emission control systems in order to make the vessel as green as possible without compromising the performance. The top speed is predicted to be in the region of 32 knots
The vessel is designed to be operated with a crew of four and accommodation is provided for the crew within the hull. There is also a space for providing first aid and emergency assistance for survivors for use when the vessel is engaged on rescue missions. The aft platform provides a lift to aid recovery of survivors from the water and a fire-fighting cannon is fitted.
Currently also under construction at the Effebi yard is a 44 metre long patrol vessel for the Italian Guardia di Finanza with delivery next year. With this contract comes the option of a further six units. Effebi offers a range of patrol boats all based on deep vee hulls with this design being one of the largest on offer.