A special sling connector can take the human element out of the handling, transport and installation of monopiles writes Dag Pike.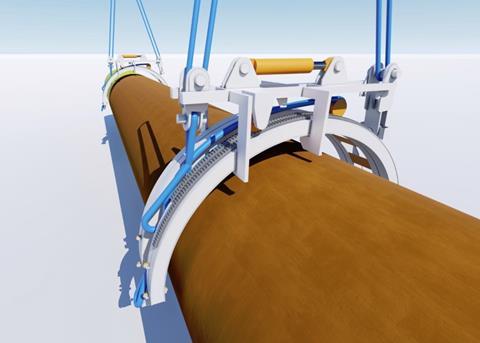 Dutch company Temporary Works Design knew that to lift the larger and heavier monopiles, substantial slings are required and with these heavy duty slings, attaching them around the monopile requires hard manual labour.
With the increasing size of the monopiles as the wind turbines get larger, the lifting weight has gone up considerably with a corresponding increase in the size of the slings required. There is also the problem of gaining access to monopiles, as particularly those in stacked piles can be both a challenging and time demanding job. Combine this with the industry trend to install monopiles using floating installation vessels, the problems of connecting lifting slings can further intensify this operation, by the introduction of vessel motions while working at heights.
To meet this new challenge TWD has introduced a remotely controlled tool, the monopile sling connector, which provides a quick and safe solution to attached lifting slings to monopiles. The monopile sling connector, once positioned on the monopile, will guide the sling around the monopile without the need for human interference. During lifting, the load is transferred directly from the sling, through link plates, to the rigging and in between lifts or during transport, the monopile sling connector can be sea-fastened on either deck or the monopile itself.
The connector is a semi-circular frame with twin lifting points. Once positioned over the monopile a motor is activated which extends a second semi-circular frame around the lower half of the monopile. This frame carries the sling that connects up with the lifting points when full extended and this creates the actual lifting sling. The lower semi-circular frame then retracts and the sling is connected allowing the lift to take place. The unit is diameter adjustable to cope with different sized monopiles and it can be used on both jack-up and floating installation vessels
TWD is a company that specialises in the design of custom-made offshore tools.