The ST3 Offshore factory in Poland has signed a new contract concerning production of mooring dolphins for the port of Hamburg.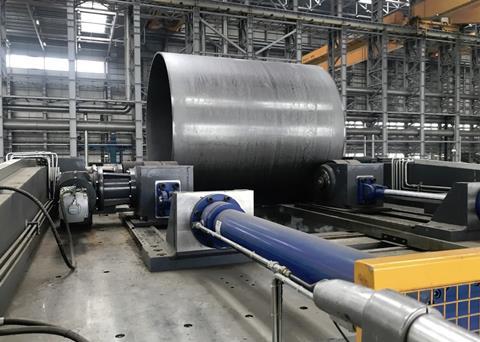 The contract was signed at the beginning of February and concerns the production of 43 dolphins elements – 17 piles with a length of up to 41m and 25 smaller pile overlay parts. The customer is Arbeitsgemeinschaft GSWP Finkenwerder, consisting of the companies F+Z Baugesellschaft, AUG. PRIEN Bauunternehmung and Taucher Knoth. The contract is related to the extension of the port in Hamburg-Finkenwerder for large ship berths.
Consisting of steel pipe material, the construction and technology is very similar to the construction and production process of wind farm monopiles. This project fits perfectly into the production profile of the ST3 Offhore plant specializing in the production of various types of steel foundations for offshore wind farms.
Although the start of production was planned for the end of March, the execution of the contract has already started. The sheets are already ordered for the whole contract. Most of the steel for the project comes from Polish steel mills.
The production started with sheet metal cutting and preparation of welding edges. Then the sheets will be rolled up and welded into cans. After being transported to the building line, the individual cans will be automatically welded together to create dolphins of several dozen metres.
The first delivery of dolphin overlays is planned for April. They will be transported by ST3 Offshore by land to the place where they will be equipped and painted. All piles will be transported by sea, most likely at the beginning of July this year. The Szczecin company is also responsible for the transport of the piles.
The contract negotiations were conducted with the customer's leading partner - F+Z Baugesellschaft, which is responsible for the technical side of the port extension project. F+Z Baugesellschaft is a company founded from the sale of Bilfinger Marine & Offshore Systems GmbH (BMOS) to Depenbrock Group. And BMOS was a long time parent company of the Szczecin factory within the Bilfinger concern and was engaged in, among other things, the construction of the factory itself. Both teams have known each other for years and know their competences and skills very well, which additionally strengthened the trust in the Szczecin producer and resulted in the willingness to cooperate.
By Jake Frith