A state-of-the-art automated docking system has been installed in the new West Terminal 2 at Helsinki, Finland and it will be used to speed up the berthing of a new ferry.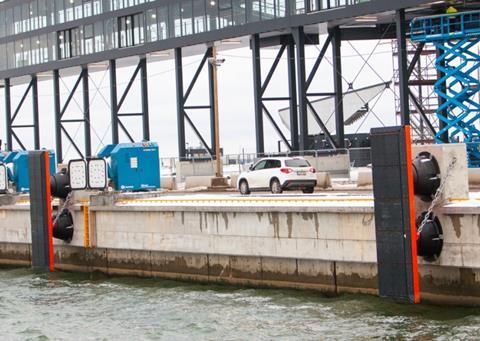 The MoorMaster system was developed in New Zealand and uses vacuum pads to hold the ship in its berth, removing the need to attach mooring ropes for berthing stops.
In addition to the installation of the MoorMaster system a new terminal building has been erected and the facilities at this passenger terminal upgraded in anticipation of the increased traffic resulting from the introduction of a new ferry on the route between Tallin and Helsinki. The new ferry, Megastar started operating on this route recently.
MoorMaster has become popular in those ports where vessels dock at the same pier several times a day and is popular with, but not limited to ferry operations. The Megastar will be arriving and departing six times a day, so the €2.5 million investment in this equipment is justified.
As the ship arrives in Helsinki, the captain will start the MoorMaster system from his control panel on board. Then, the MoorMaster units at the pier will complete independent test runs and send a message to the ship that they are ready to use. The MoorMaster units at the pier recognise the arriving ship and switch on their customised settings and the captain will moor the vessel to the berth giving the command to the MoorMaster units to attach to the side of the ship.
In the case of the Megastar, all six MoorMaster units will be attached to the side of the ship with each having a holding power of 400kN. The vacuum keeps the vessel attached to the pier, and there is no need to use ropes. If the ship is not in the exact position the MoorMaster can move it about 60cms along the pier for final adjustment.
"Docking the ship to the pier will be about 5 minutes faster compared to a traditional rope system," said Antti Pulkinen, the Harbour Master. "This allows the engines to be turned off earlier and started later while at the port. This saves fuel, which reduces costs as well as environmental stress. On a yearly basis, the savings are considerable. The Megastar will only spend an hour at a time at the port, so the five minutes saved help a lot to stick to the planned schedules."
"At the port it is also a matter of work safety. When the docking mostly happens automatically, I expect the number of work accidents related to rope handling to decrease," Pulkkinen estimated.
By Dag Pike